Bathrooms are no longer just functional spaces in a home. With the right modern bathroom accessories, like smart toilets and LED mirrors, they transform into luxurious retreats where comfort meets style. Dive into this comprehensive guide to discover the must-have accessories for a contemporary bathroom.
The bathroom is an often overlooked space when it comes to home design, but it's more than just a place to take care of your basic needs. It's where you start and end your days, and it can provide a calm and serene space to relax and unwind after a hectic day. Therefore, the quality of the accessories you choose for your bathrooms is crucial. The right choices can turn a simple bathroom into a private sanctuary. This article will dive into the must-have bathroom supplies for a modern home.
High-Tech Smart Toilet
The Emergence of Smart Toilets
Why should the bathroom be left behind in this era of smart homes? Say hello to smart toilets, the epitome of luxury and comfort. A smart toilet incorporates high-tech features such as automatic lids, built-in bidets, heated seats, and self-cleaning capabilities. Some even come with smart deodorizing systems and nightlights.
Advantages of Smart Toilets
Smart toilets not only elevate the style quotient of your bathroom but also promote hygiene and water conservation. The automatic flush mechanism reduces the spread of germs, while the bidet function reduces the need for toilet paper. Now, that's a smart choice for the environment too!
LED Mirror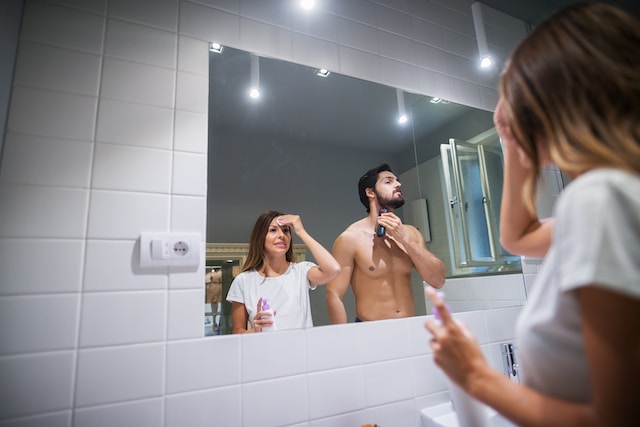 Illuminate Your Reflection
Another must-have bathroom accessory for a modern home is an LED mirror. They provide excellent illumination, making daily tasks like makeup application and shaving easier. With options for colour temperature control, you can switch between warm and cool light per your mood or requirement.
LED Mirrors as a Style Statement
LED mirrors also add a touch of elegance to your bathroom, making it look spacious and well-lit. They are available in various shapes and sizes, allowing you to choose the perfect one to complement your bathroom decor.
Freestanding Bathtub
Experience Luxury with Freestanding Bathtubs
A freestanding bathtub is a must for those who enjoy a good soak after a long day. These tubs stand out for their aesthetic appeal and can instantly uplift the look of any bathroom. They are available in various designs and materials, including acrylic, cast iron, and stone.
Health Benefits of Bathtubs
Freestanding bathtubs aren't just about luxury. They also offer various health benefits, such as relieving stress, improving circulation, and helping with muscle relaxation.
Heated Towel Rails
The Comfort of Warm Towels
There's nothing quite like the comfort of a warm towel after a hot shower or bath. Heated towel rails, a functional yet luxurious accessory, keep your towels warm and ready for use.
Adding an Elegant Touch
Besides, heated towel rails add an elegant touch to your bathroom, lending it a spa-like vibe. They also help keep your bathroom dry and mould-free by reducing dampness.
Rain Shower Head
Transform Your Shower Experience
A rain shower head mimics the experience of standing in the rain, providing a gentle, relaxing water flow. It's a great way to transform your shower experience from mundane to magical.
Saving Water with Rain Shower Heads
Despite their luxurious feel, rain shower heads can be surprisingly water-efficient, making them an excellent choice for the environmentally conscious homeowner.
Touchless Faucets
Hygiene and Water Conservation
Touchless faucets are not just for public restrooms anymore. They are becoming increasingly popular in residential settings for their hygienic and water-saving benefits. The touch-free operation minimizes the spread of germs and automatically shuts off the water when not in use.
Modern Aesthetics with Touchless Faucets
Touchless faucets also provide a sleek and modern aesthetic that can significantly enhance the overall look of your bathroom.
Floating Vanities
Modern Appeal with Floating Vanities
Floating vanities offer a clean, modern look perfect for a contemporary bathroom. They create space and openness, making them ideal for smaller bathrooms.
Storage Solution
Despite their minimalistic design, floating vanities offer ample storage space for your bathroom essentials, helping you keep it clutter-free.
Final Thoughts About Modern Bathroom Accessories
In conclusion, these are some must-have bathroom supplies for a modern home. While they certainly add a touch of luxury and style to your bathroom, they also offer practical benefits such as improved hygiene, water conservation, and enhanced functionality. So, consider incorporating some of these accessories when you're next updating your bathroom. After all, a bathroom is more than just a functional space; it's a place to relax, rejuvenate, and start and end your day positively.