Whether you are in a new relationship or looking for a way to spice up and rekindle your old relationship, planning a weekend getaway is one of the best ideas. The first step to a successful weekend getaway is choosing a romantic location where children or teenagers will not be interrupting your time together. Below is a list of sound adults only resorts in Michigan in Michigan to try.
Table of Contents
1. Bavarian Inn Lodge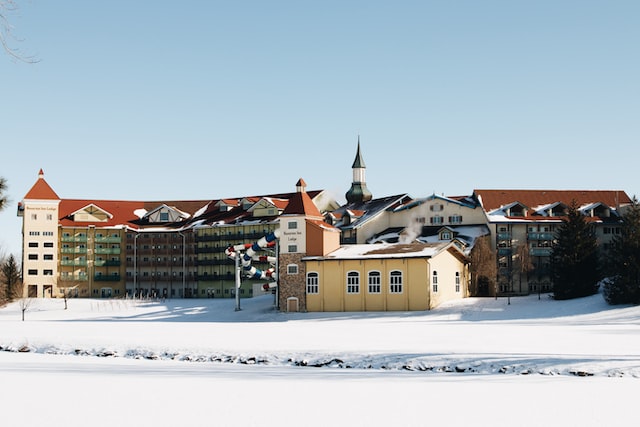 Located In Frankenmuth, this lodge brings a taste of Germany to Michigan. It has two water slides, three whirlpools, an indoor water park, and four indoor pools.
It also has 13 acres of riverfront property to explore with your love. You can also enjoy a romantic horse-drawn carriage ride around the property.
It has 360 guest rooms, 46 of which have king beds, and 24 have whirlpools.
2. Castle in the Country Bed and Breakfast Inn
Located in Allegan, around 45 miles from Grand Rapids, this is a highly preferred location by lovebirds because of its serenity and unobstructed countryside views.
Enjoy numerous activities with your partner, like paddle boating and kayaking on the private lake or snowshoeing over the winter. You can also visit the Fenn Valley Vineyards to taste some vino or visit Virtue Cider, a nearby cider house, for a casual date.
You can take the romance up a notch with the Royal Treatment Experience package that offers a dinner voucher, a fully packed picnic basket, and a side-by-side massage. The Enchanted Proposal Package is good if you plan on proposing. It gives you chilled wine, a welcome gift, a daily breakfast in your room, and a space to propose.
The inn has ten rooms and suites with plush beds, private baths, jetted tubs, and fireplaces that are perfect for setting a romantic mood regardless of the season.
3. Royal Park Hotel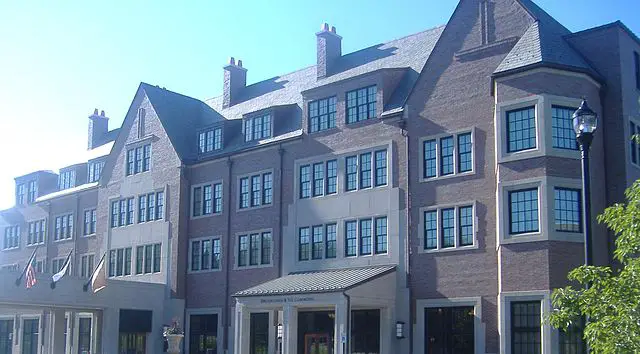 Located in Rochester, the Royal Park Hotel is located on the Paint Creek River banks, giving picturesque and serene views. You can enjoy shopping rentals, bicycle rentals, outdoor fire pits, a fitness center, and a full-service concierge.
The Royal Park Hotel, a four-star, four-diamond luxury hotel, opened in downtown Rochester in September 2004. It has 143 luxurious rooms, each with unique amenities and facilities.
4. Shanty Creek Resorts
Located In Bellaire, this resort consists of three villages; Summit, Cedar River, and Schuss. Schuss Village is primarily for winter getaways because of its ski-in and ski-out condos. Cedar River Village is also good for the winter because it has ski-in and ski-out condos and different-sized suits.
It has a fitness center, spa, dry sauna, steam room, and pools for you and your loved one to enjoy. You can also enjoy outdoor time with disc golf, junior golf, basketball, volleyball, bike rentals, soccer, or movies. Of all the adults only resorts in Michigan, this one stands out as a year-round destination.
It has 183 rooms with amenities like coffee makers, refrigerators, and microwaves. Some have full kitchens, balconies, sitting areas, and fireplaces.
5. Lake Shore Resort
Located in Saugatuck, the Lake Shore Resort has a private sandy beach, wooded surroundings, nature trails, and pools.
It has 30 rooms with king or single queen beds and air conditioning, James Brandess art, refrigerators, coffee makers, cable TV, and large windows, giving you an excellent view.
6. The Island House Hotel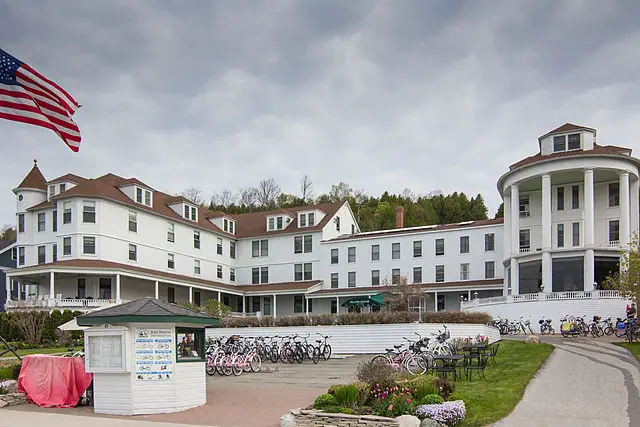 Located on Mackinac Island, Island House Hotel has direct dock access and relaxing green spaces, blending stately charm and convenience. You can relax on the sun deck and enjoy the sun, watch boats on the harbor, or enjoy stargazing by the chimenea.
The Romantic Getaway package will give you and your love chocolate-covered strawberries, sparkling wine, dinner at the 1852 grill room, and souvenir champagne flutes. This island resort is among our most remote adults only resorts in Michigan, as you have to take a ferry to get to it.
You can choose from the traditional, king, deluxe, or suites on the property, many of which have an excellent view of the lake and king-size beds. They also have hot tubs and an indoor pool where you can relax and enjoy the views with your loved one.
7. Yelton Manor
This is the perfect location for romantic sunsets close to the beach, starlight nights, and lazy days in South Haven.
Depending on your desired vibe, you can choose the guest house or manor. The guest room is more private, with six rooms.
On the other hand, the manor has eleven rooms, perfect for a more social experience if you come with other couples. However, it has rooms like the Iris Anniversary Suite and Rose Honeymoon Suite to let you enjoy a romantic evening.
Both buildings have big common rooms, and you get meals and snacks like fresh fruit, candies, and popcorn.
8. Old Harbor Inn
Located In South haven, this inn allows you to access the sandy beach easily, gives you romantic panoramic views, and is close to South haven restaurants and shops.
It has four structures connected by a boardwalk, with 45 rooms. Every room is unique, with different sleeping arrangements and amenities. The deluxe rooms have down comforters, a fireplace, and a kitchenette.
9. Black Star Farms
Located at Suttons Bay, Black Star Farms has access to hillside vineyards, a winery, barns, wooded trails, stables, and pastures. It also has several decks, plus a spa/ sauna room that you can reserve for private sessions and massages.
You can also enjoy table games, puzzles, books, and magazines in the library.
It has ten guest rooms with a satellite TV and private bath, with some including a tub, spa, or fireplace. You also get complimentary Red House wine and breakfast, including tea, locally roasted coffee, fresh fruit, a hot dish, and baked goodies.
10. Chateau Chantal
Located in Traverse City, Chateau Chantal is a picturesque romantic weekend getaway with local beaches, a vineyard, and breathtaking views. There is also a winery on the property where you can go on a public tour or book a private and finish off by visiting the wine-tasting room.
It has 11 rooms, ranging from cozy spaces to spacious rooms with elegant furniture, high ceilings, a whirlpool tub, a wet bar, and balconies with amazing views. Some rooms also have fireplaces and sitting areas.
Additional Adults Only Resorts in Michigan Getaway Ideas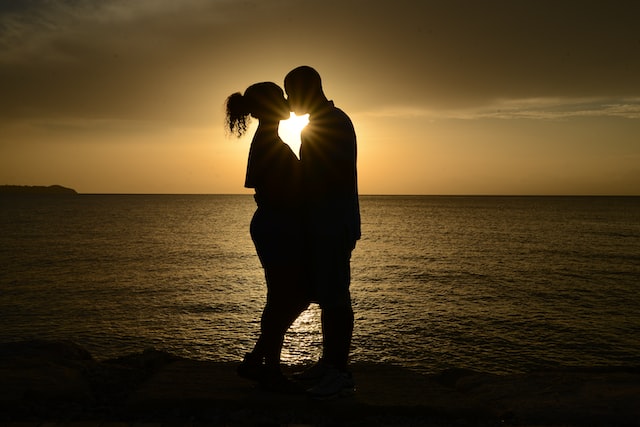 Weekend resort stays in northern Michigan are a great way to spend time, especially if the weekend is expected to be snowy or rainy. We are sure you will find things to to. In addition to getting a romantic location, you need to spice things up in the bedroom with some of the following ideas.
Viagra or Viagra alternatives like Tadalafil, vardenafil, or avanafil
Role-playing
Trying each other's sexual fantasies
Toys and accessories
Trying new locations and positions