Until recently, there was no question that technologies such as wind turbines were less efficient than using fossil fuels. Now is the time to invest in wind energy and other renewables in terms of tax breaks and legislation for wind energy development. The reason is simple; it's an excellent and profitable investment in the future. The timing couldn't be better; new projects utilizing the latest technology render energy output at lower costs than coal or natural gas.
Invest in Wind Energy – What We Will Cover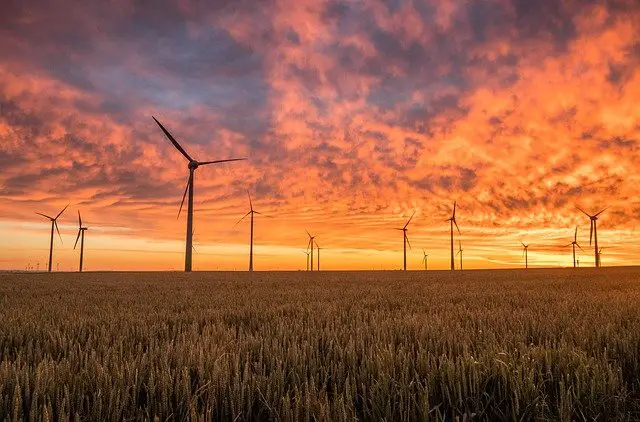 When considering when to invest in wind energy, it may be time to consider three things: 1) Energy companies need to change how lease payments are made on land hosting wind turbines to benefit the entire community. 2) Look at the current policies to ensure that investments are still being made and that growth can continue in small steps. 3) Community moratoriums are a stopgap, not a long-term solution, to the pending crisis we face with climate change.
#1 The Wind is a Pollution-free Source of Energy
Overall, using wind to produce energy has fewer environmental effects than many other energy sources. The power source, wind, does not release harmful emissions that pollute the air or water.
As technology develops and investment in wind turbines is made, it will lower emissions for electricity generation. Fossil fuel power plants that burn coal are being dismantled in some regions of the country that use wind generation.
Demolition of the Harbor Beach Michigan Coal Power Plant
One reason why investing in wind energy is that utility companies in the United States are not investing in coal power plants. In 2019, the United States had 241 coal-powered units, which provided 23% of the country's electricity. This is roughly the same quantity of energy produced by renewable sources or nuclear power plants, but only about half of the amount produced by natural gas plants. The total coal-fired plant capacity was around 236 GW. However, since 2010 over 290 coal-fired plants have closed. This represents 40% (93.8 GW) of the US's coal-generating capacity.
#2 Wind Energy is Space Efficient
Wind turbines can operate in the community. Typically in open spaces such as farms and prairie lands. The space under and near the turbines can still grow crops and graze cattle.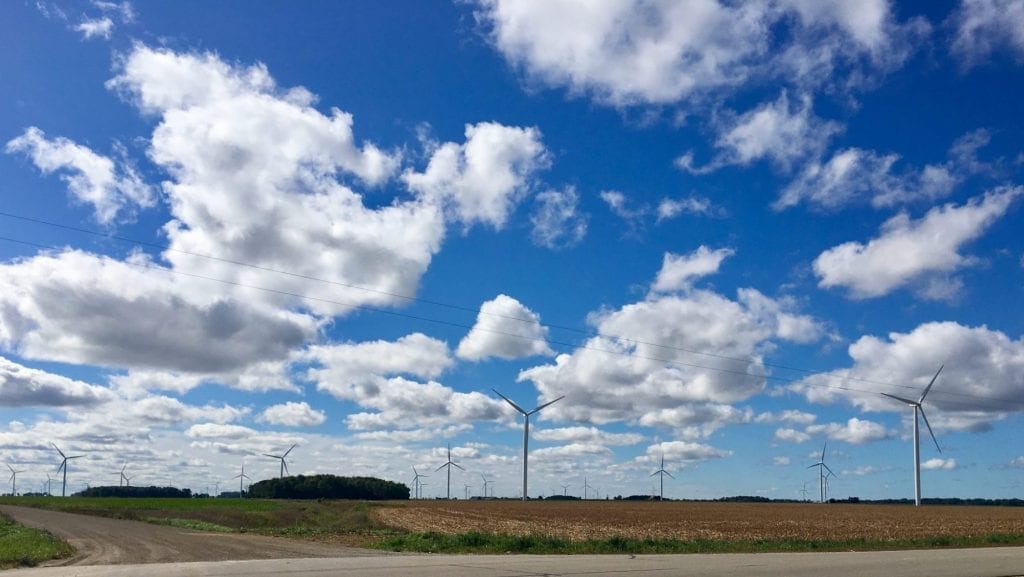 Land that is taken is the pad area under the turbine and service access road easement. Power cables carrying the generated electricity are typically buried.
This means on a per kilowatt basis, each turbine is efficient and can power thousands of homes and businesses.
#3 Wind Energy Has A Fast Return on Investment (ROI)
For years wind energy detractors pointed to the high upfront cost and the high per-kilowatt contract cost of wind generation. With a useful life of about 20 years, wind turbines' ROI (return on investment) is now paid back in 5-8 months.
While the initial cost of a wind turbine is high, the source of the power, wind, is free. Turbines also have relatively low running costs once they are constructed and need little maintenance.
Five Major Corporations Invest in Wind Energy
Wind energy is a growing industry, and it's not just the little guys investing in it. Here are five major companies that have recently invested in wind power for their use:
Apple – In January, Apple announced that it had purchased 100% of its electricity needs from renewable sources for its operations in 23 countries. The company plans to reach 100% renewable energy by 2020.
Walmart – In 2018, Walmart announced plans to install more than 5 million solar panels on its stores and distribution centers by 2020.
Google – Google has invested more than $1 billion into renewable energy projects since 2010, including one of the largest wind farms in Texas and one of the largest solar farms in North Carolina (which will produce enough energy for roughly 30,000 homes).
Amazon – Amazon has installed over 100MW of wind power capacity at its data centers across Iowa, Virginia, Ohio, Illinois, Indiana and Oklahoma since 2016–enough energy to power about 15,000 average American homes annually!
Microsoft announced plans last year to buy enough renewable energy to match all the electricity used by its global operations by next year–and then some! The company has already signed contracts for more than 2 gigawatts (GW) of wind power from three different projects in Texas, Oklahoma and Wyoming; together these projects are expected to generate about 3 billion kWh annually by 2020 (about enough electricity for 650,000 average U.S homes). That's equivalent to about half the electricity consumed by Microsoft's global headquarters campus alone!
#4 Wind Energy is Now Cheaper than Coal
One report examining the Levelized Cost of Energy (LCOE) shows U.S. renewable energy prices continued falling over the past year. Both wind and solar were hitting new lows, and costs fell below the cost of coal in 2018.
#5 Wind Energy is A New Source For High-Tech Jobs
The U.S. Bureau of Labor Statistics noted over the next ten years, wind turbine service technicians are the #1 fastest-growing occupation with an average salary of $53,900.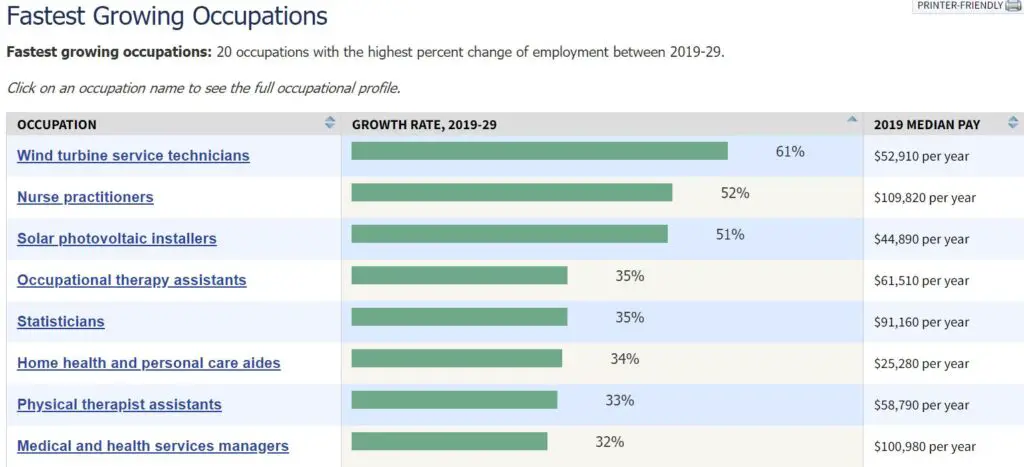 While still an emerging job sector, the number of renewable energy jobs now exceeds 120,000. Today, over 530 factories in 43 states build wind and solar energy-related parts and supplies.
#6 Wind Energy Protects Our Future
Wind energy is only one of the solutions to reduce the proven effects of global climate change. By investing in the technology and its implementation, growth has meant that it's become more cost-efficient in the energy produced.
This video presents a non-political outline of the situation that the planet finds itself in. It does not offer any solutions. This was first posted on Thumbwind in 2012. Eight years later it resonates even more.
Some may consider it propaganda, while others consider it prophetic. It's required viewing in several classes in colleges throughout Michigan.
Invest in Wind Energy – Best Wind Energy Companies To Invest In
GE Renewable Energy—Boston, Massachusetts—Stock Symbol: GE—GE Renewable Energy is a $15.7 billion company that combines one of the most diverse portfolios in the renewable energy sector to deliver end-to-end solutions for our clients that want dependable and cheap green electricity. GE Renewable Energy has installed more than 400 gigatonnes of clean, renewable energy and equipped more than 90 percent of utilities worldwide with grid solutions by combining onshore and offshore wind, blades, hydro, storage, utility-scale solar, and grid solutions, as well as hybrid renewables and digital service offerings. GE Renewable Energy, with approximately 40,000 workers in more than 80 countries, adds value for clients looking to power the globe with affordable, dependable, and sustainable green electricity.
NextEra Energy Inc. — Juno Beach, Florida – Stock Symbol: NEE – A renowned clean energy firm based in Juno Beach, Florida. NextEra Energy owns Florida Power & Light Company, the largest rate-regulated electric utility in the United States in terms of retail electricity produced and sold. The company serves more than 5.6 million customer accounts and provides clean, reliable, and affordable electricity to more than 11 million Floridians.
NextEra Energy also owns a competitive clean energy firm, NextEra Energy Resources, LLC, which, along with its connected organizations, is the world's largest generator of renewable energy from the wind and sun and a global leader in battery storage. NextEra Energy, through its subsidiaries, creates clean, emission-free electricity from seven commercial nuclear power plants in Florida, New Hampshire, and Wisconsin.
Invenergy LLC — Chicago, Illinois, – Privately Held – We are creators of a more sustainable world. Invenergy and its subsidiaries build, own, and manage large-scale sustainable energy-generating and storage facilities across the Americas, Europe, and Asia. The headquarters of Invenergy is in Chicago, and the company maintains regional development offices in the United States, Canada, Mexico, Colombia, Japan, Poland, and Scotland. Invenergy has successfully produced over 27,000 megawatts of operational, under-construction, or contracted projects, including wind, solar, and natural gas power production facilities and sophisticated energy storage projects.
EDP Renewables North America LLC — Houston, Texas – Stock Symbol: OTCMKTS: EDRVF – EDP Renewables North America is based in Houston, Texas, and is a branch of EDP Renewables, a global pioneer in the renewable energy market. In 2007, the firm was created by embracing the rising need for sustainable energy and acquiring Horizon Wind Energy LLC. EDP Renewables has more than quadrupled its wind power output since then, becoming one of the world's top producers. We have constructed and run more than 8,300 megawatts (MW) of renewable energy projects in North America that generate power, improve rural communities, and drive progress toward a sustainable future.
Avangrid Renewables — Portland, Oregon – Stock Symbol: AGR – Aims to be the most successful sustainable energy firm in the United States. AVANGRID has two main lines of business: Avangrid Networks and Avangrid Renewables, and is headquartered in Orange, Connecticut. It has roughly $39 billion in assets and activities in 24 U.S. states. Avangrid Networks controls eight New York and New England electric and natural gas companies, servicing over 3.3 million people.
Avangrid Renewables owns and operates renewable energy production plants around the United States. AVANGRID employs roughly 7,000 people and has been named one of the 2021 JUST 100 businesses – a list of America's most outstanding corporate citizens – and was ranked first in the utility industry for its dedication to the environment and the communities it serves by Forbes and Just Capital.
Sources: Investing In Wind Energy Development
#1 – U.S. Energy Information Administration – EIA – Independent Statistics and Analysis. (n.d.). Retrieved December 03, 2020, from https://www.eia.gov/energyexplained/wind/wind-energy-and-the-environment.php
#2 – Richard, M. (n.d.). The Energy Payback for a 2-Megawatt Wind Turbine That Lasts Over 20 Years Is… 5-8 Months. Retrieved December 03, 2020, from https://www.treehugger.com/energy-paypack-megawatt-wind-turbine-lasts-over-years-months-4858396
#3 – Singh, D. (n.d.). Levelized Cost of Energy and Levelized Cost of Storage 2019. Retrieved December 03, 2020, from https://www.lazard.com/perspective/lcoe2019
#4 – Fastest-Growing Occupations: Occupational Outlook Handbook. (2020, September 01). Retrieved December 03, 2020, from https://www.bls.gov/ooh/fastest-growing.htm
#5 – Incubatepictures. (2012, February 11). There's No Tomorrow (limits to growth & the future). Retrieved December 03, 2020, from https://www.youtube.com/watch?v=VOMWzjrRiBg
Related Articles for Investing In Wind Energy