Planning to visit Las Vegas for the first time? If you are, let us tell you that this visit won't be your last! The freedom you will experience here is addicting, leaving you wanting to come back again and again. So, don't wait – start planning your itinerary of things to do in Las Vegas.
However, since you are a first-time visitor, be prepared for stimulation overload – things to do and see, as well as eat, drink, and play, might overwhelm you. But don't worry – as long as you plan your trip ahead of time, you will be more than acceptable. And, in that itinerary, don't forget to include some of the following 'Las Vegas for First-Time Visitors' activities. 
things to do in vegas during the day – Visit Bellagio Fountains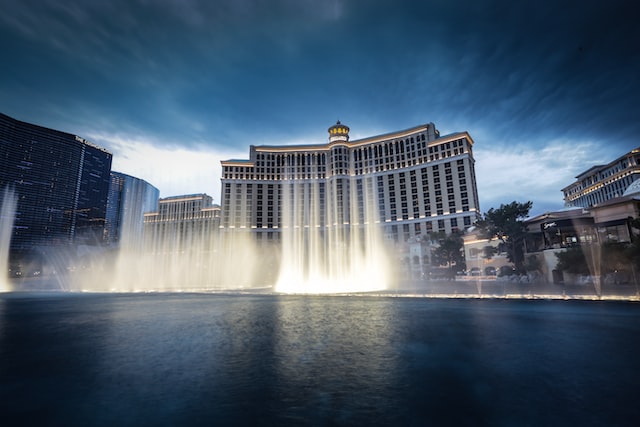 If you are a Brad Pitt or George Clooney fan, then you must have seen  Oceans 11 – the movie that glorified the Bellagio Fountains. These fountains are a part of the Bellagio Resort and Casino, and according to all residents and tourists, they are a must-see attraction in Las Vegas for first-time visitors. 
In front of the enormous casino, there is a man-made lake with fountains. But that is not what makes this spot special, no. What makes it unique is that those fountains sing, dance, and change colors. And that is not all – when you walk past the lake and get into the casino lobby, you will see the most beautiful gardens (open to the public) filled with some of the most unique flora species in the world. 
So, if you ever find yourself in Las Vegas, be sure to give this place a visit. It is worth it. Moreover, if you are a local – don't be afraid of the tourists. Here, you can have a staycation on a budget and at the time of your life. 
things to do in las vegas for couples – Try Stratosphere Rides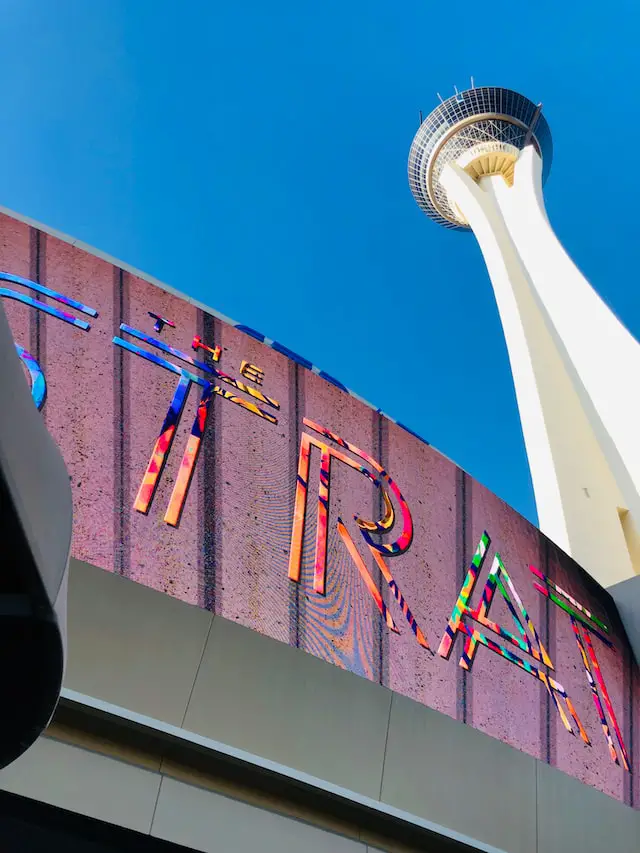 The Stratosphere, or the STRAT, is another hotel in Las Vegas. It is the tallest building in Las Vegas, and it provides its guests with some of the best views of the Strip. But don't worry, to enjoy this view, you don't have to spend thousands of dollars on a night's stay – you just have to book a ride. 
What ride – you ask? Well, the STRAT is home to some of the best rides in the world – The Sky Jump, the Big Shot and X Scream, and Insanity. However, don't go to these if you are afraid of heights or if you are somebody who doesn't enjoy an extreme rate of motion while being upside down. 
But, if rides are not your thing but you still want to enjoy the magnificent views from STRAT, there is a solution. You can book lunch or dinner in one of STRAT's hotels. This will be great if you have just moved to Las Vegas and want to see the entire city. So, let Triple 7 Movers Las Vegas unpack you while you get to know the city and enjoy a meal with the best view. 
things to do in las vegas strip – Walk and Experience The World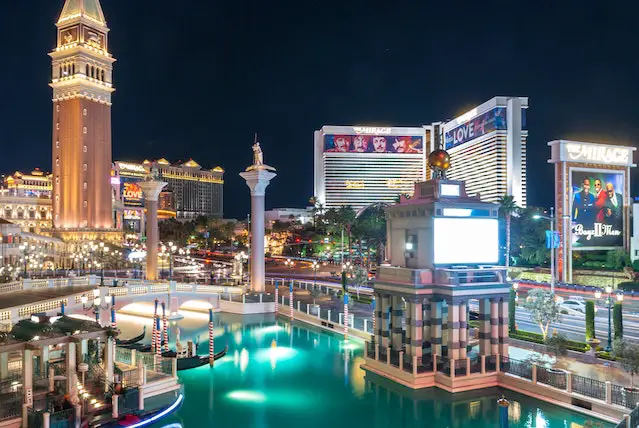 The previously mentioned STRAT hotel is just one of many hotels on the Las Vegas Strip – an area filled with themed hotels. The strip is a must in Las Vegas for first-time visitors! There, you can see the Pyramids and the Caesars Palace. You can stand under the Eiffel Tower. You can take a ride through Venice Canals. Or you can have the concrete jungle experience at The Big Apple Coaster.
All hotels on the Strip imitate a city – Egypt, Paris, Rome, Venice, Tokyo, New York, etc. So, if you ever want to travel to the most famous cities in the world but not waste too much money and time while doing so, the Strip is the place to be. 
Moreover, just like previously mentioned, you don't have to be a first-time visitor to visit this place in Las Vegas. You can be a local too! So, don't be lazy – if you have a weekend off, leave playing those most popular video games for some other time and go to the Strip. Here, you will have a feeling you are not in Las Vegas.
things to do in las vegas for free – Explore Nature and Hike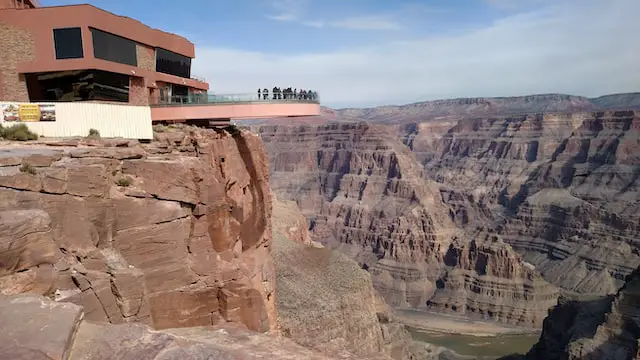 You will want to move to Las Vegas instantly if you live hiking. Trust us; it takes just one visit to Las Vegas' hiking spots to make all hiking lovers pack their bags and make this city their home. And what if it does? Finding a home and a job here is easy, and when it comes to moving here, with the help of local movers, you can settle in with no stress and in no time. 
But let us go back to first-time visitors' hiking spots in Las Vegas. There are approximately 200 different hiking trails here, but if you only have a day or two to spare, we suggest going to Gold Strike, Valley of Fire, or Redrock Canyon. These will leave you breathless, not because of their difficulty but because of the sights they provide.  
If you do decide to go hiking in Las Vegas – be warned. The heat here can be extreme, and if you are not careful, it can lead to heat exhaustion or heat stroke. Thus – check the weather before you, and it is possible to choose a less scorching day. And, of course, don't forget to bring sunglasses, sunscreen, a hat, and a lot of water. 
things to do in vegas adults – Eat and Drink at a Buffet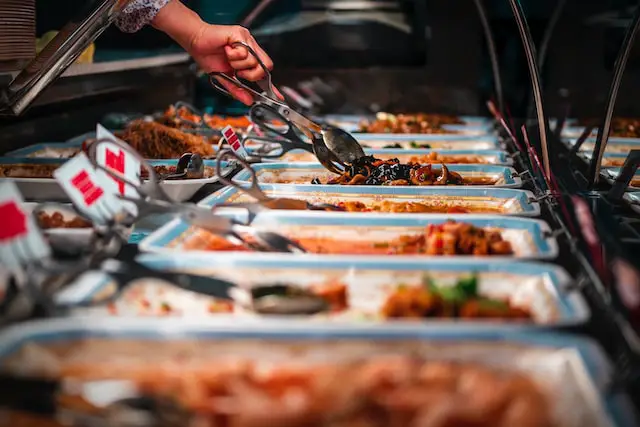 Until now, we talked about things to do and see in Las Vegas for first-time visitors, but now we have to mention some foods and drinks you must try as a first-time visitor too. Namely, Las Vegas is home to some of the best restaurants in the world. So, if you want to experience first-class service and 5-star meals and drinks, just make a reservation at one of the restaurants here. 
However, if you don't want to spend much on a meal, try one of those all-you-can-eat buffets. These are located all over the city and offer fantastic food for as little as $5. And don't worry about the service – it is incredible too. 
Final Thoughts on Things To Do in Las Vagas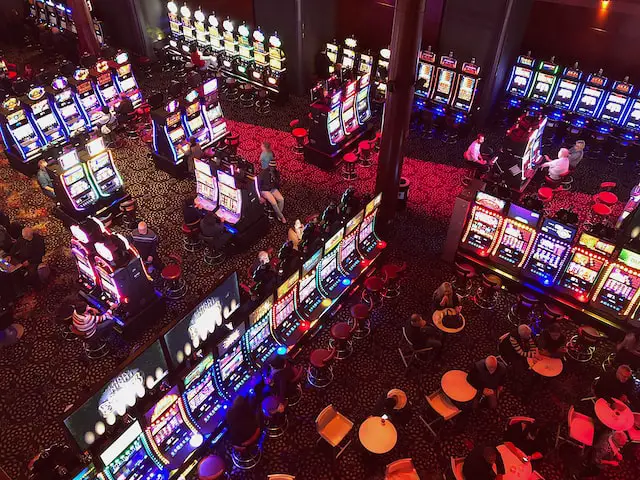 As you have seen, there are many things to do and see in Las Vegas for first-time visitors. We mentioned just a couple of them, but if you have more time, keep exploring. For instance, you can try your luck at the Bellagio Casino, shop at Grand Bazaar Shops open-air mall, eat at the Golden Steer Steakhouse, etc. 
Related Reading on Two Verbs
83 Michigan Harbors To Explore When Cruising The Great Lakes – Michigan's Great Lakes Harbors Program. Created a marine "highway" along the 3,000 miles of the Great Lakes shoreline. Ideal for pleasure cruising.
4 Live Nome Alaska Webcams, Latest Nome News & Weather Updates – Alaska is known for its beautiful wildlife, wilderness forests, and friendly people. Nome is no exception! We have live Nome Alaska Webcams so you can see the little city and area traffic in real-time and weather stations to keep an eye on the weather.
13 Extraordinary Mansions in the United States – There are many mansions in the United States worth exploring. Amazingly Michigan has four of the top thirteen on this list of estates where one can tour the property.
How To Skip-The-Lines, Save Money and See an Amazing Vatican Museum – A top tip when visiting Rome is to tour the world's largest museum in Vatican City. Here is how to get tickets and avoid lines.