Have you ever wanted to create a space where the walls seem to whisper peace and the furnishings beckon you to sit and relax? That's the beauty of minimalism. From its clean lines to a palette of neutral colors, minimalist design is all about creating a calm, clutter-free environment.
But it can be hard to find furniture that complements this esthetic. That's why we've created this guide to finding the perfect pieces for your minimalist home. We'll explore how simple lines and multifunctional features can bring balance into your home, as well as some great examples of furniture that can do just that.
Introduction to Minimalist Design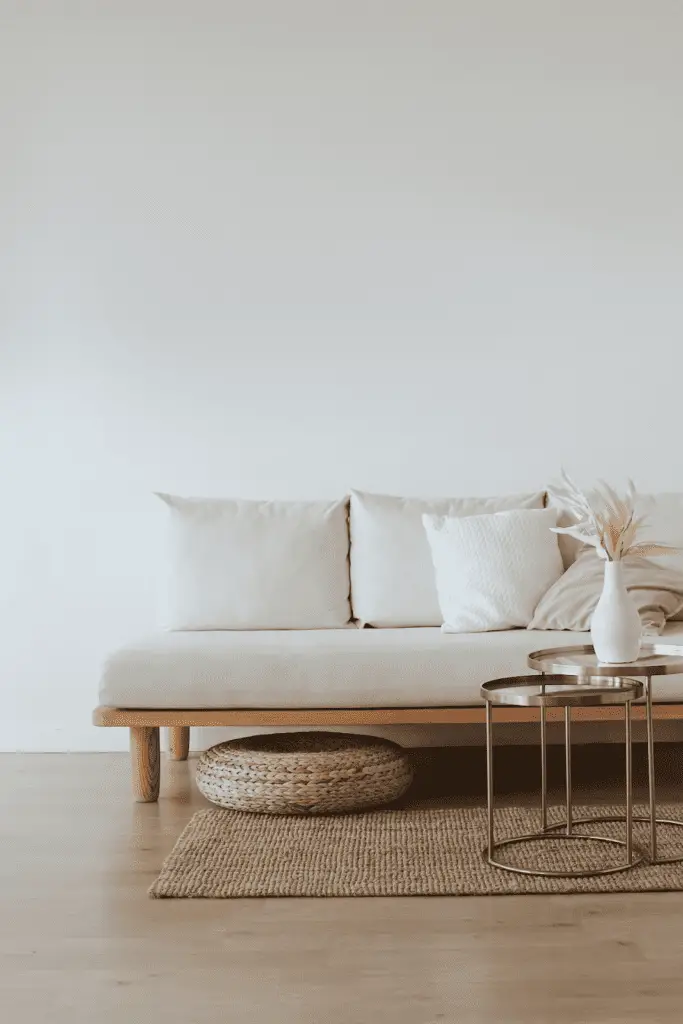 Welcome to the world of minimalist design! For many, the idea of a minimalist home is an attractive one—one that is clutter-free, calming and relaxing. And great design doesn't have to be complicated or ornate. Minimalist furniture pieces feature clean lines, neutral colors, and multifunctional features.
If you're looking to create a minimalist space in your home, it's important to select pieces that fit this esthetic. Look for furniture that offers maximum functionality while using minimal materials—pieces like dressers with built-in shelving or ottomans with hidden storage space. Neutral colors like muted blues and grays work best in creating a relaxing ambiance, while natural materials like wood, leather and linen bring warmth and texture.
How to Choose Minimalist Furniture
When furnishing a minimalist home, it's important to select pieces that will not only fit the esthetic, but also serve a purpose. Look for furniture with simple and clean lines and neutral colors, as these will help create a serene space. Additionally, keep an eye out for pieces that have multifunctional features—for example, a coffee table with drawers or a couch with hidden storage.
It's also important to make sure the furniture is built with quality materials that can stand up to everyday use. For example, wood furniture can look great in minimalistic homes and can be dressed up with accessories like pillows and throw blankets. On the other hand, metal furniture is sturdy and can resist wear-and-tear better than wood over time.
When selecting minimalist furniture for your home, focus on pieces that serve multiple purposes while adhering to the esthetic of serenity and simplicity. This will ensure you achieve your vision of creating a calm and clutter-free space without compromising on quality or function.
Simple Furniture Ideas for a Zen Space
To create a space that's minimalistic and calming, it's important to choose furniture that is both practical and esthetically pleasing. Furniture with simple lines, neutral colors, and multifunctional features make a room feel spacious and clutter-free while simultaneously adding a chic esthetic. Let's explore some of the best furniture pieces for minimalist homes:
Console Tables
Console tables are sleek and low profile, making them perfect for a minimalist home. They also come in a variety of sizes and shapes, allowing you to find one that perfectly fits your space. Not to mention, console tables can be used for storage or as an entryway table for keys, mail, etc., so you can get the most out of your purchase.
Platform Beds
Platform beds have become increasingly popular in recent years because they look modern yet still provide plenty of comfort. Furthermore, these beds usually take up less space than traditional bed frames but you still get that cozy elevated design.
Recliners
When it comes to seating arrangements in a minimalist home, recliners are an excellent choice. These pieces of furniture take up little floor space and come in modern designs with neutral color palettes that fit perfectly into almost any environment. Additionally, many recliners are packed with features like automatic footrests or massage functions so they don't just look good but also provide comfort you won't find in other chairs or sofas.
Examples of Functional Minimalist Furniture
When it comes to minimalist furniture, the key is to focus on pieces that are both esthetically pleasing and practical. Look for furniture that has simple, clean lines with a minimal number of accents and patterns, neutral colors, and multifunctional features.
Here are some examples of functional minimalist furniture you should consider for your home:
Chairs and Benches
Chairs and benches with a modern esthetic but classic design will instantly elevate any room. If you want something comfortable, look for upholstered items with sturdy frames—they look chic while still providing good back support.
Stools
Stools make great seating options since they're easily moved from room to room or tucked away in tight spaces when not in use. Choose ones made of natural materials like wood, rattan or iron for an extra touch of the minimalist style.
Tables
Tables are the foundation of any living space. For a minimalist home choose tables that come in simple silhouettes and sharp lines such as nesting tables or slim tables with slim legs to create an open feel to the room. Additionally, look for tables with no visible hardware or fixtures that can give off clutter vibes.
Decorative Accents
Keep decorative accents simple—mix in some potted plants or artwork that is sparse yet stylish. That said, try not to overcrowd the space—just enough decor adds personality but too much results in clutter.
Concluding Remarks
If you're looking for functional and sleek furniture pieces that can transform your living space, look no further than 1StopBedrooms' minimalist furniture collection. Their minimalist furniture pieces are designed to offer maximum functionality and style with a minimalistic approach. From modern sofas to simple coffee tables, 1StopBedrooms' minimalist furniture collection features clean lines and understated design, making it perfect for any space. To get the full scoop and customer reviews, proceed to the following link: https://www.reviews.io/company-reviews/store/1stopbedrooms.com
By selecting the right furniture pieces and using minimalist design principles, you can create a home that will bring you peace and tranquility. So, if you want to create a calm and serene space to relax and rejuvenate, minimalist furniture is the perfect way to do it.