Bar Harbor, Maine, is a beloved tourist destination known for its serene coastal beauty. Webcams provide a convenient way for locals and visitors to monitor the picturesque region, including real-time weather conditions and enchanting vistas.
Bar Harbor Maine Webcams
Attractions in Bar Harbor and Arcadia National Park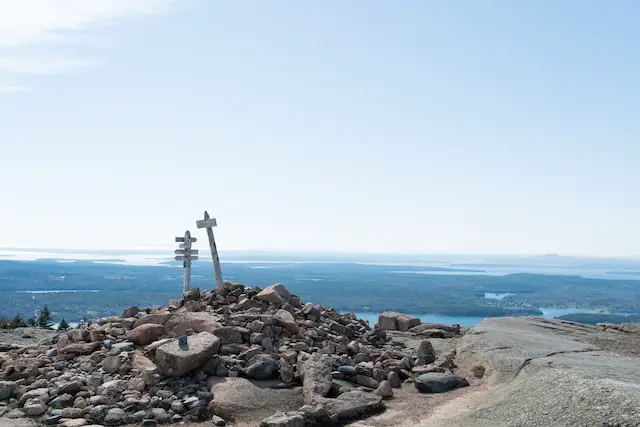 Bar Harbor and Arcadia National Park offer visitors many activities to enjoy. There's something for everyone, from hiking on Cadillac Mountain to boat tours around the harbor. The live webcams showcase many of these captivating attractions. Here are five key tourist attractions in the Bar Harbor and Acadia National Park area:
Cadillac Mountain: As the highest peak on the East Coast of the United States, Cadillac Mountain offers unrivaled views over Bar Harbor, Frenchman Bay, and the Cranberry Isles. Visitors can hike, bike or drive to the summit. It is particularly popular for sunrise and sunset viewings due to its stunning panoramic vistas.
Jordan Pond: Jordan Pond is a crystal-clear glacial lake located in the heart of Acadia National Park. Visitors can walk the 3.5-mile trail that skirts the pond's edge, dine at the historic Jordan Pond House Restaurant, or enjoy various water activities.
The Shore Path: Starting from the town pier in Bar Harbor, the Shore Path offers a gentle 1-mile coastal walk. Along the way, walkers can enjoy sweeping ocean views, see towering cliffside mansions, and may even spot some of the harbor's resident seals.
Thunder Hole: An awe-inspiring natural rock inlet where the crashing waves produce thunderous sounds and spectacular splashes, especially at mid-tide. Thunder Hole offers an interactive and visceral experience of the power of the Atlantic Ocean.
Downtown Bar Harbor: The vibrant and picturesque downtown area is filled with many shops, restaurants, art galleries, and museums. The Abbe Museum offers insight into Native American heritage, while the Jesup Memorial Library and its surrounding park provide a peaceful retreat. Visitors can also embark on whale watching or sailing tours from the town's harbor.
Live Bar Harbor Maine Webcams
Through the live webcams, one can enjoy stunning views of the harbor, the bustling downtown, and the majestic Arcadia National Park. These webcams provide virtual visitors the chance to enjoy Bar Harbor's attractions from the comfort of their own homes.
This is a sister page to the Bradenton Webcams, Port Charlotte, Sarasota Webcams, and Charleston SC Webcams.
Pro Tip: If several webcams in the same area are not working, it could indicate a power outage.
Current Bar Harbor and Arcadia Maine Weather Forecast
The webcams also serve as a tool for live weather updates, providing locals and visitors with accurate and up-to-date forecasts. This ensures everyone can plan their activities accordingly.
Embedding webcams is tricky. Sometimes, it's best to click on the camera and view it in its tab.
The featured image and source of some webcams on this page are from Windy.com
---
Bar Harbor Inn Live WebCam – Live In Bar Harbor, Maine
Take a look at the live webcam capturing the stunning harbor in Bar Harbor, Maine. The Bar Harbor Inn is situated right by the harbor, conveniently located in the heart of downtown. Surrounded by picturesque landscapes, the eight acres of the Inn offer a peaceful escape with close proximity to distinctive shops, art galleries, and enjoyable waterfront experiences. You will be mesmerized by the relaxed refinement of the Bar Harbor Inn, providing an ideal setting to discover the rugged Maine coastline and the magnificent Acadia National Park.
---
Bar Harbor, Maine US – West View – Live Harbor Views
Take in the breathtaking view of Bar Harbor Inn in Bar Harbor, Maine, a renowned coastal town located in Mount Desert Island, nestled in the heart of Acadia National Park.
---
Bar Harbor, Maine – East Harbor View
Marvel at the awe-inspiring live panorama of Frenchman Bay that unfolds before you from the exquisite Bar Harbor Inn. Nestled in the internationally acclaimed town of Bar Harbor, Maine, on Mount Desert Island, this pristine location lies at the core of Acadia National Park. The bay owes its name to Samuel de Champlain, the intrepid explorer who charted the region in 1604.
---
Southwest Harbor, Maine – Dysarts Marina Near Acadia National Park
Dysart's Great Harbor Marina is a full-service marina located in Southwest Harbor, Maine, just a short drive from Bar Harbor. The marina is also a great place to explore Acadia National Park. There are several hiking trails within walking distance, and the village of Southwest Harbor has a variety of shops, restaurants, and art galleries.
---
Geddy's Webcam – A Bar Harbor Institution
If you're searching for the finest Bar Harbor lobster, look no further than Geddy's. This beloved local establishment has been a favorite for 49 years, offering an authentic taste of New England's coastal cuisine. Located in downtown Bar Harbor, Maine, overlooking the waterfront, Geddy's is the perfect spot to indulge in delicious seafood.
---
Winter Harbor – Frenchmans Bay
Winter Harbor, a small coastal town in Hancock County, Maine, is located just across Frenchman Bay from Bar Harbor. Named for the harbor itself, which rarely freezes due to the surrounding seawater's salt content, Winter Harbor offers a unique blend of quiet, small-town charm, and stunning natural beauty.
The town's history is tied to the sea. Initially settled in the 1760s, Winter Harbor was home to a robust fishing and shipbuilding industry throughout the 19th century. Its location opposite Mount Desert Island and Bar Harbor made it an integral part of maritime activities in the region. The town was officially incorporated in 1895, and over time, it has maintained its quaint seaside ambiance while evolving to accommodate visitors from around the world.
Winter Harbor is famous for its panoramic views of Frenchman Bay and the Atlantic Ocean. It's a quiet counterpoint to the hustle and bustle of Bar Harbor during peak tourist season. The town offers a variety of recreational activities such as boating, hiking, and bird watching. Visitors can also enjoy the town's local art scene with various galleries and the renowned Schoodic Arts for All Festival, a two-week event held every summer that features performances, workshops, and presentations by artists from around the state.
Adjacent to Winter Harbor is the less crowded portion of Acadia National Park, the Schoodic Peninsula. This area provides a more tranquil, less touristy experience than the main park across the bay. It offers breathtaking views of Mount Desert Island, rugged coastlines, dense spruce-fir forests, and crashing waves. For those looking to explore the natural beauty of coastal Maine away from larger crowds, Winter Harbor is a hidden gem.
Winter Harbor: Frenchman Bay
Weather Radar Bar Harbor – Current Weather & Forecast
Current weather radar map of the Bar Harbor and Arcadia National Park area.
---
360 View of Front Cadillac Mountain At Sunrise
The 360-degree view from Google Maps offers a unique angle on the sunrise of Cadillac Mountain in the Arcadia National Park in Maine. It's one of the first places to see the sunrise in the US. Great to see a sample of the area and what it looks like in case you want to visit in the future
---
Bar Harbor Maine News Updates
Paul Richard Meyer, 93, of Middlebury  Addison County Independent

Canadian Cruise Port Hails Robust Mid-Season Update  Cruise Hive

Museums in our Midst  Harvard Magazine

Celebrate National Dog Week with a Pet-Friendly Luxury Vacation …  Luxury Travel Magazine

Discover the Most Beautiful College Campus in Maine  AZ Animals

Dementia, death and family secrets  The Times Leader
---
Current Bar Harbor Maine Weather Map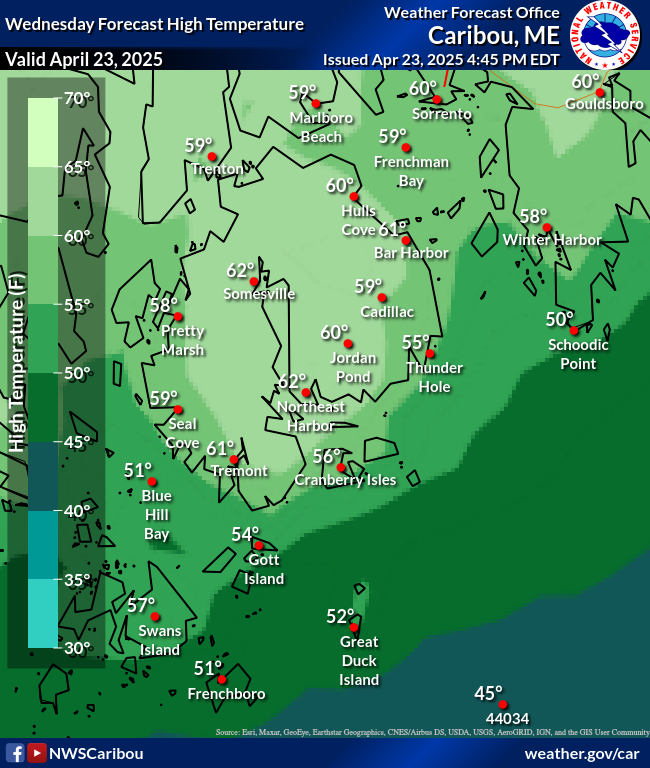 About Bar Harbor Maine
Bar Harbor, located on Mount Desert Island in Maine, is a town rich in history. It was originally inhabited by the Wabanaki people, who named the island Pemetic, meaning "range of mountains". European settlers first arrived in the early 1600s, and the town was eventually incorporated in 1796 as Eden, named after Sir Richard Eden, an English statesman. In the late 19th century, it was a popular summer resort for the wealthy, with luminaries like the Rockefellers, Fords, and Vanderbilts building extravagant cottages. After a devastating fire in 1947 destroyed many of these estates and much of the town, Bar Harbor was gradually rebuilt and reestablished itself as a popular tourist destination.
Famous People from Bar Harbor, Maine
Bar Harbor has been home to several notable figures. Among the most prominent is Nelson Rockefeller, former Vice President of the United States and four-term Governor of New York, who spent his summers in Bar Harbor. It was also a beloved summer retreat for author and illustrator, Robert McCloskey, whose children's book "Time of Wonder" was inspired by his time on the island. Additionally, Dorothea Dix, a pioneering advocate for the mentally ill, is another noteworthy figure associated with the area.
Current Attractions in Bar Harbor, Maine
Today, Bar Harbor is renowned for its coastal beauty, charming downtown, and proximity to Acadia National Park. It's a haven for outdoor enthusiasts, with opportunities for hiking, biking, kayaking, and whale watching. The historic Shore Path provides stunning views of the harbor and surrounding islands. Downtown Bar Harbor is brimming with unique shops, galleries, and restaurants that feature local seafood, particularly Maine lobster and blueberries. Acadia National Park, the crown jewel of Bar Harbor, offers dramatic landscapes, from the rugged coastlines and Cadillac Mountain to serene ponds and extensive hiking trails. With a vibrant arts scene and numerous cultural events throughout the year, Bar Harbor continues to be a captivating destination for visitors.
Final Thoughts About Bar Harbor & Arcadia National Park Webcams
In conclusion, the Bar Harbor & Arcadia Maine webcams offer not just picturesque views but also serve as essential tools for weather updates and news. They connect us virtually to this incredible coastal town, its dynamic community, and its stunning natural surroundings.