The State of Michigan announced a program that will give any Michigander the chance to get a tuition-free associate degree from a Michigan community college or skills certificate. The new scholarship. Michigan Reconnect is an initiative that offers a historic tuition-free opportunity. It's available for more than 4.1M Michiganders age 25+ to earn an associate degree or skills certificate.
In Advanced Education, Michigan Lags Below Other States.
As of 2019, only 41% of Michigan's working-age residents had an associate degree or higher, placing Michigan at 31st in the nation. According to the Michigan Community College Association, the average age of Michigan's 365,232 residents currently enrolled at a community college is 25.7 years old. More than 36% of the students are 25 or older.
Michiganders without a college degree or training credential often face economic challenges. For example, a 2020 analysis by the American Association of Community Colleges reports the median earnings of full-time employees with a high school degree is $40,510 annually, while those with an associate degree make $50,079 per year, based on the U.S. Bureau of Labor Statistics data. 
The Michigan Reconnect Program
Gov. Gretchen Whitmer and a bipartisan group of lawmakers announced the $30 million Michigan Reconnect program in February 2021. "I'm proud of the hard work that has gone into creating this historic new opportunity and look forward to continuing bipartisan work with lawmakers toward our goal of ensuring 60% of Michiganders will have a postsecondary degree by 2030."
For eligible people who desire to pursue an associate degree or a skills certificate at their local community college, Michigan Reconnect will cover the cost of tuition. More than 70 private training schools with 120 programs offering certificates. Many in high-demand careers in industries such as manufacturing, construction, information technology, healthcare, or business management participate in the program, which offers skills scholarships to help cover the cost of tuition.
Eligibility for the Michigan Reconnect Program and How to Apply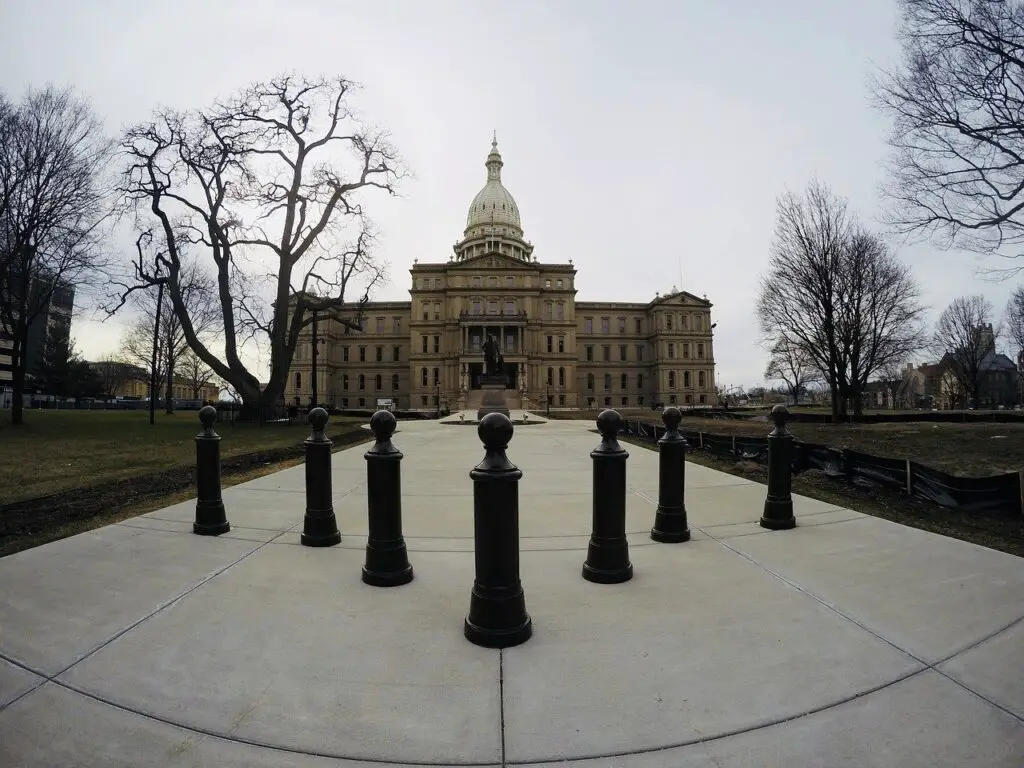 To be eligible for Michigan Reconnect, you must: 
Be at least 25 years old when you apply 
Lived in Michigan for a year or more 
Have a high school diploma 
Have not yet completed a college degree (associate or bachelors) 
All Michigan community colleges offer Reconnect scholarships, and they are also available to qualifying people who are already enrolled in their local community college. After other state and federal financial aid has been applied, the program pays the remaining amount of tuition and obligatory fees. In addition, reconnect will cover the in-district component of tuition for people who want to attend an out-of-district community college.
You can submit applications at Michigan.gov/Reconnect.
Mid-Public Michigan's Community Colleges
Delta Community College – University Center (South of Bay City)
Delta Community College serves the counties of Saginaw, Midland, and Bay as part of its district. University Center, Michigan is made up of Delta College and Saginaw Valley State University. The college has 15,000 students enrolled.
Mid-Michigan Community College – Harrison
Mid Michigan Community College (MMCC) is a public community college in Michigan with Harrison and Mount Pleasant campuses. The institution, founded in 1965, offers one- and two-year certificates and associate degrees in transfer, occupational, and health science programs.
Kirkland Community Collage – Grayling
Kirtland awards degree and certificate programs, including transfer associate degrees and areas of study in arts and sciences, business, professional programs, industrial trades, health science, public safety, and other programs. Evening and online courses are available.
Community Collages Just Outside Mid-Michigan Area
Lansing Community College – Lansing
Each academic year, Lansing Community College provides 230 associate degree and certificate programs and about 1,150 courses. The Higher Learning Commission has granted its accreditation. LCC is a training center for the National Alternative Fuels Training Consortium. Most of the classes in this center are located at the college's West Campus. Student enrollment 18,000. 
Macomb Community College – Warren 
University transfer, early college, professional certification, job development, continuing education, and enrichment programs are among the college's offerings. In addition, it offers bachelor's degree completion and graduate-level programs It's a nationally famous University Center, which was founded in 1991.
Montcalm Community College – Sidney
Sidney Community College (MCC) is a public community college in Sidney, Michigan. Montcalm Community College, founded in 1965, has 2,080 students enrolled in 2005.
Mott Community College – Flint
MCC offers over 100 different Programs and hundreds of specific classes. Offering degree, college transfer, or career training, Mott Community College is accredited by the Commission on Institutions of Higher Education of the North Central Association of Colleges and Schools.
St. Clair County Community College – Port Huron
SC4 offers certificate and associate degree programs. It also provides online classes as well as four-year transfer programs. Students can also acquire Bachelor's and Master's degrees without ever leaving the SC4 campus by collaborating with University Center partners. In addition to its main campus in Port Huron, SC4 maintains learning facilities in Harbor Beach, Algonac, Yale, Peck, and Croswell. SC4 services a substantial chunk of Michigan's Thumb region through these regional centers.
The Michigan Thumb Region's Hot Jobs in 2021
Skilled individuals with a certificate or associate degree from a community college are needed for the following jobs. These jobs are in high demand in Huron, Tuscola, Sanilac, St. Clair, Lapeer, Genesee, and Shiawassee counties.
Automotive Service Technicians and Mechanics – Median Hourly Wage: $ 17.08
Licensed Practical and Licensed Vocational Nurses – Median Hourly Wage:$ 23.23
Machinists – Median Hourly Wage: $16.06
Maintenance and Repair Workers, General – Median Hourly Wage: $15.84
Medical Assistants – Median Hourly Wage: $14.08
Nursing Assistants –  Median Hourly Wage: $14.72
Personal Care Aides – Median Hourly Wage: $ 11.09
Pharmacy Technicians – Median Hourly Wage: $ 13.60
Plumbers, Pipefitters, and Steamfitters – Median Hourly Wage: $ 33.86
Welders, Cutters, Solderers, and Brazers – Median Hourly Wage: $16.38