When it comes to traveling with pets, finding pet-friendly destinations and activities is crucial for a stress-free and enjoyable experience. In the bustling metropolis of New York City, pet owners will be delighted to discover a wide array of options that cater to their furry companions. From sprawling parks to dining spots, pet friendly NYC offers plenty of opportunities to explore the city with your four-legged friend. In this article, we will uncover the top 7 pet-friendly destinations and activities in NYC, ensuring an unforgettable experience for both you and your beloved pet.
Central Park: A Haven for Pets and Their Owners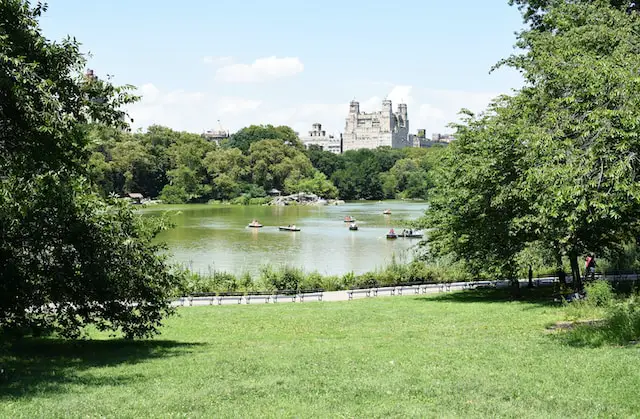 Central Park stands as one of the pet-friendly destinations and activities in NYC and an iconic symbol of New York City. It also happens to be a haven for pets and their owners. With designated off-leash areas and dog runs, your canine companion can frolic freely and make new furry friends. The park boasts dog-friendly walking trails and hiking paths, allowing you to enjoy nature's beauty while keeping your pet active. Here are some suggestions for pet-friendly destinations and activities you can enjoy in Central Park, NYC:
Explore the designated off-leash areas and dog runs for your canine companion to play and socialize.
Take your pet for a leisurely walk or hike on the dog-friendly trails and paths throughout Central Park. If you are looking to lose weight, this is one of the best activities you can engage in.
Enjoy a picnic in one of the park's picturesque spots, allowing you and your pet to relax and dine in nature.
Consider joining a pet-friendly outdoor yoga or fitness class for a unique bonding experience.
Capture memorable moments by taking photos with your pet against the backdrop of iconic landmarks such as Bow Bridge or Bethesda Terrace.
Treat your furry friend to a horse carriage ride through Central Park, where well-behaved pets are often welcome.
Attend pet-friendly events and festivals hosted in the park throughout the year for a fun-filled day with your pet.
The High Line: A Unique Urban Park Experience for Pets
If you want to explore New York with your family, this is a place you shouldn't miss. The High Line, a repurposed elevated railway, offers a unique urban park experience that welcomes pets. As you stroll along this elevated pathway, you'll be captivated by the mesmerizing views of the cityscape. Pet owners should ensure they adhere to the rules and regulations, including keeping their pets on a leash. 
Along the High Line, you'll also find pet-friendly cafes and restaurants where you can take a break and savor delicious treats while your furry friend rests beside you. Don't forget to capture the stunning views and photo opportunities with your beloved pet.
Roosevelt Island: Serene Retreat for Pets and Their Owners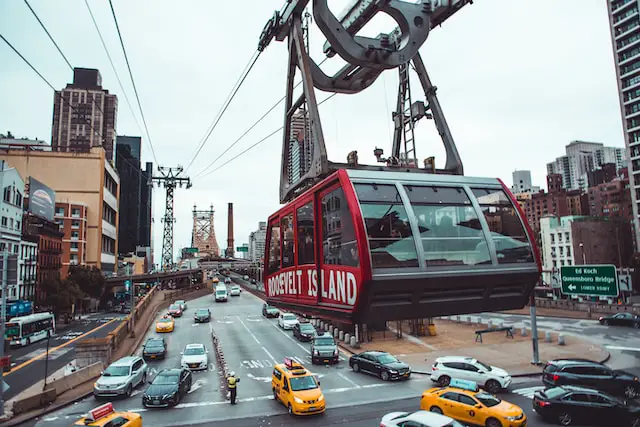 For a tranquil escape from the city's hustle and bustle, head to Roosevelt Island. Getting there is a breeze with pet-friendly transportation options available. Once on the island, you'll discover lush green spaces and walking trails that provide ample opportunities for exercise and relaxation with your pet. Several parks dot the landscape, providing a welcoming environment for pets to roam and play. Take advantage of the serene retreat and enjoy quality time with your furry companion.
Shake Shack: A Popular Pet-Friendly Dining Spot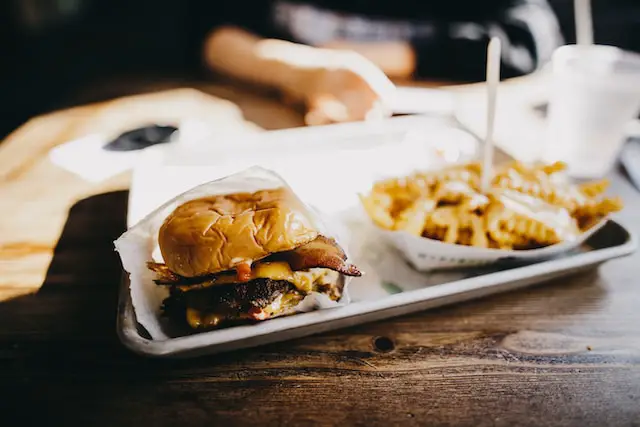 One of the pet-friendly destinations and activities in NYC. Shake Shack is renowned for its food scene, and pet owners need not worry about leaving their furry companions behind while dining out. Shake Shack, a popular fast-casual restaurant chain, has embraced a pet-friendly policy, welcoming pets to their outdoor seating areas. As you savor their delectable burgers and shakes, your pet can relax by your side. Shake Shack even offers a special dog-friendly menu, ensuring your furry friend gets to enjoy a treat of their own. It's a win-win situation for both you and your pet.
Brooklyn Bridge Park: A Waterfront Oasis for Pets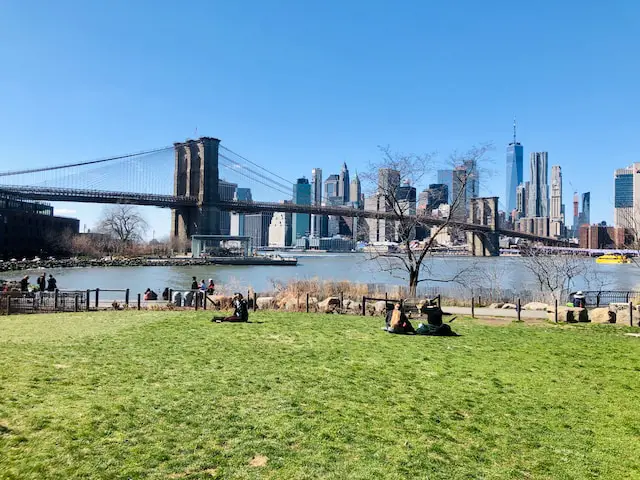 Adjusting to life in NYC after moving with a pet can be a thrilling experience, but it's important to help your furry friend acclimate to the new environment. Experts from Movers Not Shakers NYC suggest unpacking as soon as you move in, and hiring assistance if necessary. This will help you gradually introduce your pet to new smells, the environment, and the city's sounds and sights.  You should make sure to maintain a consistent routine and provide them with a safe and comfortable space. 
Once you're ready to introduce your pet to the new city, consider visiting Brooklyn Bridge Park. Nestled along the waterfront, Brooklyn Bridge Park offers a perfect oasis for pets and their owners. With dedicated dog-friendly areas and dog runs, your four-legged friend can stretch their legs and socialize with other dogs. As you explore the park, you'll be treated to spectacular views of the iconic Manhattan skyline, providing a breathtaking backdrop for your pet-friendly adventures.
Moving to Pet Friendly NYC with your pet?
Moving to NYC with a pet can be an exciting adventure, but it's important to plan ahead to ensure a smooth transition. When relocating, consider the needs of your pet and find pet-friendly accommodations. Additionally, if you require storage space for your belongings during the move, it's crucial to find a secure facility that can safely store your items while you settle into your new home in the city.
Central Park Horse Carriage Rides: A Pet-Friendly Adventure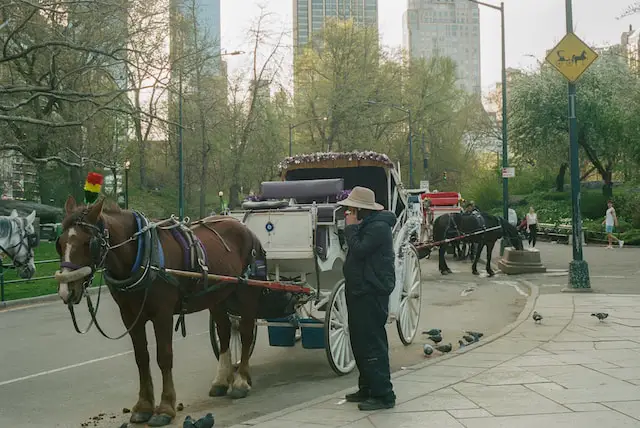 Embark on a pet-friendly adventure by exploring Central Park through horse carriage rides. Many carriage operators in Central Park welcome well-behaved pets on their rides, allowing you to experience the park's beauty while sharing the enchantment with your pet. Before hopping on a carriage, make sure to familiarize yourself with the guidelines for bringing pets along. Together, you can admire the park's iconic landmarks and create lasting memories.
New York City's Pet-Friendly Accommodations
To make the most of visiting pet-friendly destinations and activities in NYC, it's essential to find accommodations that warmly welcome your furry companion. Fortunately, several hotels and accommodations in the city understand the needs of pet owners. When planning your trip, consider factors such as pet-friendly policies, designated pet areas, and nearby green spaces for your pet's convenience. If you're ready to seize the day and take the most out of your time in NYC, make sure to spend as much outside with your pet.
To sum it up…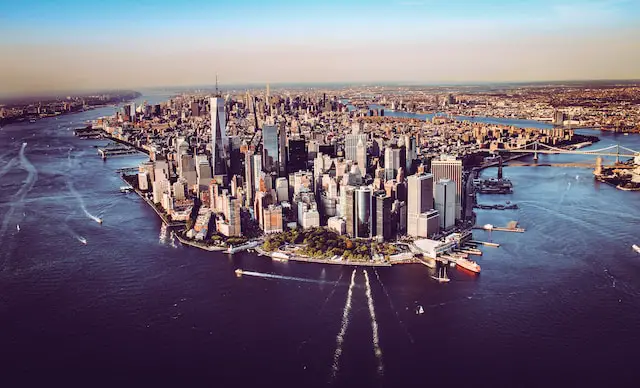 New York City truly shines as a pet-friendly destination, with an abundance of options for you and your furry friend to enjoy together. From the iconic Central Park and the unique experience of The High Line to the serene retreat of Roosevelt Island and the waterfront oasis of Brooklyn Bridge Park… The city offers a variety of pet-friendly destinations and activities! Embrace the joy of pet friendly NYC travel and create unforgettable memories with your beloved pet in the vibrant city of New York.