Hot dogs are one of the most popular foods in the United States. It is also gradually becoming popular in other parts of the world. Having a texture similar to beef and sometimes like a combination of beef trimmings and pork. This cured meat is often grilled or steamed and is commonly seen dressed up between partially sliced buns in a beautiful, aesthetic way that makes you want to dive in and savor its taste. But not to worry, since we all love the taste of yummy hot dogs and sausages, this article will guide you with easy hot dog grilling tips that will get you that picture-perfect and tasty hot dog.
What We Will Cover
Grilled Hot Dogs Are Timeless BBQ Treats
These sausages never go out of style as they have also become part of different meals, pasta, noodles, and other assorted delicacies. They're also served at family picnics and in restaurants.
Sadly, not every lover of hot dogs knows how to grill. Sometimes they end up burning the frank (frankfurter), and other times, it's barely grilled. They even blame the sausage brands. This must be even more frustrating, especially when they have been opportune to taste one grilled by a Pro. 
If you do know how to grill hot dogs, how well can you do it? Can you confidently make them at functions without getting them stuck on the grates? Or do you make them just for yourself? 
But not to worry, since we all love the taste of yummy hot dogs and sausages, this article will guide you with easy hot dog grilling tips, that will get you that picture-perfect and tasty hot dog.
Whether you grill them, fan-fry them over a stove, or make them part of your meal, these tips will get you grilling like a pro within a couple of minutes.
Now, let's get started! 
First things first, you need to put a few items in place before you grill. This will make it easier and faster for you to prepare without running around searching for items, leaving your franks unattended.
If you do not have these items, you can either go for their alternatives listed here, or set out to purchase them. 
List Of Grilling Items You Need
Charcoal or Propane 
A grill brush or reasonable pile of aluminum foil 
Charcoal grill or Gas
Non-stick grill spray
Your desired flavor of melted butter buns in which you will place your hot dog 
Pastry brush
Your desired range of ingredients or spices and toppings with which you will dress your hot dog. Ketchup, diced or chopped onion, mayonnaise, yellow mustard
Hot dog brand. Now in this aspect, there are so many hot dog brands in the market. However, I will advise that you purchase the best hot dog brand so that you will have no cause to complain.
 To the part we've all been waiting for, Let's Get Grilling!
Ideal Steps To Follow In Grilling Your Hot Dog
Step 1: Prepare Your Grill
No matter what you're working with, be it a charcoal or gas grill, the basic step in the grilling process is ensuring that your grill is ready. 
Make sure it is remnant free and if it's not, scrub the remnants off using a grill brush or aluminum foil.
Once your grill is free and neat, ensure that you have enough charcoal or propane, whichever you are working with. Grab your tongs and beef franks. 
We are aiming for nothing but the best grilled hot dog, so get every item ready.
Step 2: Spray The Grates
Spray the grates with a non-stick grill spray. Spray it the same way you would spray any cooking surface, this will prevent your franks from sticking to the surface and will make it easier for you to turn them. 
This will make your work clean and less greasy. 
Step 3: Get The Heat On
Your grill needs proper heat to ensure your franks are well grilled. Before you place your franks on the grill, preheat them for about 15 minutes using high heat.
If you're using a charcoal grill, ensure there is white ash all over it. Once your grill is hot, reduce the heat to a minimal level. We're almost there and these hot dog grilling tips are not difficult, just follow them accurately.
Step 4: Get Grilling And Seal In The Flavor.
While grilling, make sure you follow food safety measures like washing hands.  Wash with clean water and soap even if you wouldn't touch the franks with your bare hands, you need to keep your hands clean. 
Grab your grill tongs and place your beef franks over indirect heat, perpendicular to the grates. 
Roll the beef franks, to ensure that each side comes in contact with the heat. Do this repeatedly, until the ends of your frank look like they're splitting up.
To seal in that flavor, quickly bring your franks in contact with direct heat or in the flame. Place your franks at an angle and continuously turn your franks to get those picture-perfect patterns.
After this, your hot dog is almost set to be taken out of the grill.
Step 5: Toast Your Buns
Your hot dog is just a couple of steps away from your mouth. While waiting for your dogs to be fully heated, grab your bun and using your pasty brush, apply your melted butter evenly on your hot dog bun. 
Toast your bun for a minute by placing them face down on the grill but not over direct heat. Ensure not to keep the bun for long on the grill so that heat doesn't dry out the bun.
Step 6: Dress Them Up
Have you ever imagined being served just grilled hot dogs at an eatery or a restaurant? Without any topping? The mere thoughts of it are quite unattractive and somewhat naked, right?
Well to fix that, get your ketchup, mustard, onions and all other tasty toppings that you desire to work with. Use them to dress up your hot dogs. 
You can also try out new toppings to prepare your own recipe or a more personalized taste.
Step 7: Your Hot Dogs Are Ready
Get your grilled hot dogs out from the grill and place them in the bun. Then, proceed to top it with the condiments of your choice. 
Great! Your yummy hot dogs are ready. Dive in and savor its mouth-watering taste. To top it off, you can get a drink of your choice to enjoy it. 
Extra Tips To Boost Your Skill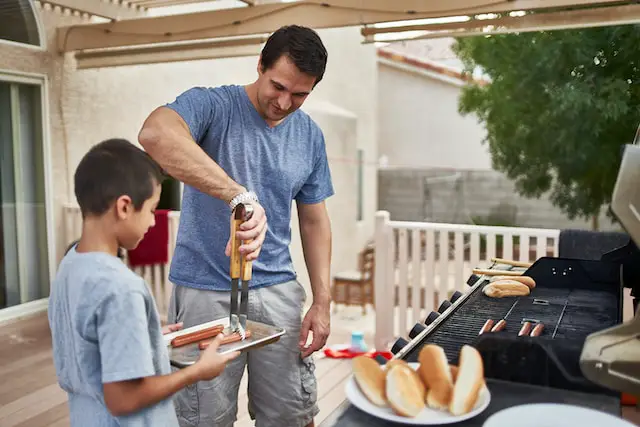 FAQ About Top Tips For Uniquely Cooking Hot Dogs
Do you have to grill hot dogs? Some don't like the grill marks.
If you're using direct heat, fill an cast iron pan with beer, onions and your preferred seasoning then place your hot dogs in it and allow them to boil and cook for a while before you proceed to grill.
What unique (or weird) seasonings to try?
You can cook your franks for a couple of minutes. Then get mayonnaise or your preferred barbecue sauce and brush some over the hot dog.
How can you cook a hot dog for kids?
Try splitting the hot dog lengthwise and grill. These can be dressed up to make "Hot Dog Boats" that look fun to eat.
Grill Like A Pro
Hot dogs are delicious, aesthetically pleasing and easy to prepare at any time of the day. With these hot dog grilling tips, you can grill perfect, tasty hot dogs which you can serve to anyone at any time. Entertain your friends and family at the next gathering with your expertise in grilling hot dogs. Soon you will feel at home around a grill and even a Texas BBQ. And yes! We do not mind if you make this your secret recipe.