Galveston Texas is a highly sought out tourist and retiree destination known for its serene coastal beauty. Webcams provide a convenient way for locals and visitors to monitor the picturesque region, including real-time weather conditions and enchanting vistas.
Galveston Texas Webcams
Attractions in Galveston, Texas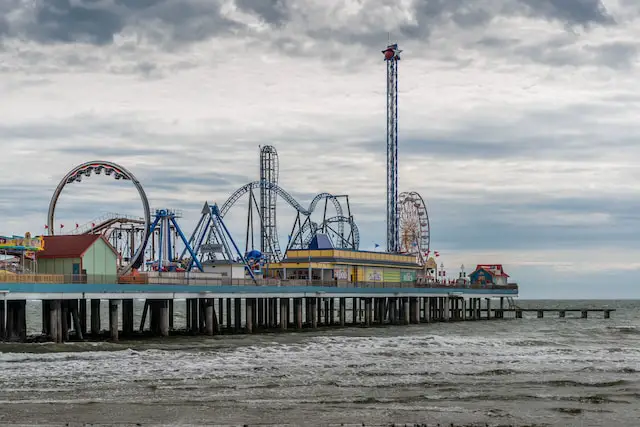 It's the early morning when I set foot in Galveston, Texas. I can still taste the salt in the air, a reminder that the Gulf of Mexico is a constant presence in this historic city, an indelible part of its character. I'm not here for your conventional, cookie-cutter tourism. I'm looking for the stories, the spirit, and the flavors that make Galveston the gem that it is. So buckle up, my friend. We're about to take a journey that's far off the beaten track.
The Strand Historic District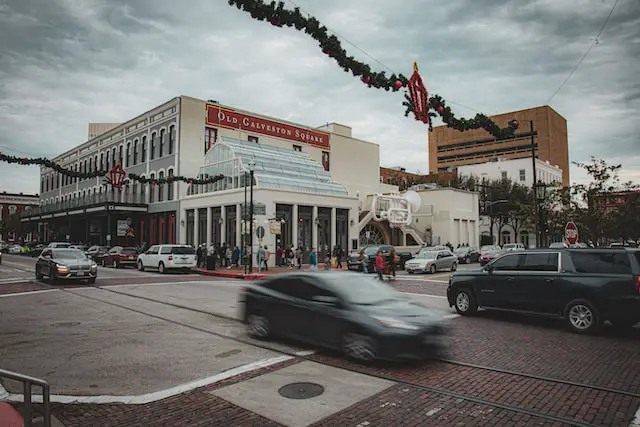 First stop, the Strand. But I'm not talking about a simple stroll around the 19th-century Victorian-era buildings. I'm talking about diving deep into the stories behind them. Look, here's Hendley Market, an eccentric treasure trove that's equal parts antique store and cabinet of curiosities. You can feel the history oozing out of the building. The owner, a friendly old man with a quick smile, shows me a genuine ship's masthead that dates back to the 1800s, looking like something straight out of a pirate legend. A few steps away is La King's Confectionery, where the candy is hand-pulled and the ice cream is churned in vintage machines. The sugary aroma is intoxicating.
The Bryan Museum
From there, I'm off to the Bryan Museum, which is not your average museum experience. Housed in what was once the Galveston Orphans Home, it's now a time machine to the American West. I spend hours gazing at the antique guns, historic documents, and pieces of Native American art. The true heart of the museum, though? That's in the stories it tells, stories of hardship, resilience, and a spirit as untamed as the land itself.
Pier 21 Theater
Next, it's time to experience the "Great Storm" at the Pier 21 Theater. It's a documentary about the infamous 1900 hurricane that decimated Galveston. But it's more than a film, it's an emotional journey, making you feel the fear, the desperation, and the human spirit's indomitable strength.
The Poop Deck
I've seen Galveston past; it's time for a taste of Galveston's present. And I do mean taste. I find my way to the Poop Deck, a dive bar that's unpretentious, welcoming, and serves some of the most straightforwardly good drinks in town. The locals are friendly, sharing their stories and their favorite recommendations for the next seafood joint to hit. It's the kind of place that feels like a warm hug from an old friend.
The East End Historic District
Finally, I make my way to the East End Historic District for a self-guided walking tour. As the sun begins to set, painting the sky in shades of purple and gold, I wander past stately Victorian mansions, each one a testament to Galveston's prosperous past. I find a bench in a small park, the oak trees around me draped with Spanish moss swaying gently in the evening breeze. And I realize – this is Galveston. Not just the buildings, or the history, or even the food. It's the sense of connection to a past that's still very much alive in the present, a spirit that's been tested but never broken.
Galveston isn't just a place. It's a feeling. It's a story. And it's a damn good one.
Live Galveston Texas Webcams
Through the live webcams, one can enjoy stunning views of the bustling downtown and the majestic Galveston beach. These webcams allow virtual visitors to enjoy Galveston's attractions from the comfort of their homes.
This is a sister page to the Bradenton Webcams, Port Charlotte, Sarasota Webcams, and Charleston SC Webcams.
Pro Tip: If several webcams in the same area are not working, it could indicate a power outage.
Current Galveston Texas Weather Forecast
The webcams also serve as a tool for live weather updates, providing locals and visitors with accurate and up-to-date forecasts. This ensures everyone can plan their activities accordingly.
Embedding webcams is tricky. Sometimes, it's best to click on the camera and view it in its tab.
The featured image and source of some webcams on this page are from Windy.com
---
Galveston Beach Live WebCam
The live webcam perched high above Galveston Beach presents a panoramic sweep of this dynamic coastal world. Anchoring the view, Murdoch's gift shop – a veritable institution on these sands, standing defiantly against the elements since the late 1800s – is an echo of times past, its balconies offering a serene perch from which beachgoers observe the rhythm of the sea. A stone's throw away, and the Galveston Island Historic Pleasure Pier punctuates the skyline, a carousel of lights, laughter, and screams of delight from thrill-seekers defying gravity on its rides. The Ferris wheel dominates the frame, ceaselessly tracing a giant wheel of joy against the azure Texan sky. The backdrop is the sprawling Gulf of Mexico, its surface a patchwork quilt of colors changing with the sky's mood. It's an ever-changing tableau of life, celebrating Galveston's infectious energy and deeply rooted ties with the sea.
---
Live Camera Bayou Vista Railway Train Bridge
The live webcam trained on Bayou Vista, just a stone's throw from Galveston, offers a tranquil tableau of Texan coastal life. Front and center, the Low Clearance Bridge straddles the peaceful canal, a steadfast symbol of rustic charm that perfectly encapsulates the town's unhurried rhythm. BNSF trains trundle frequently past, their lengthy carriages a moving patchwork of colors and graffiti, adding a touch of industrial contrast to the bucolic setting. The canal itself is a serene artery of life, frequented by fishing boats that glide effortlessly through its calm waters, their passengers casting hopeful lines into the teeming aquatic world beneath.
The webcam owner only allows you to see the webcam live on YouTube >> Live Camera Bayou Vista Railway Train Bridge
---
Galveston Island Historic Pleasure Pier – Seawall Boulevard
Peering out over Seawall Boulevard, the webcam at Galveston Island Historic Pleasure Pier offers a dynamic view of Texan coastal fun. Capturing the buzz of the amusement rides and the myriad visitors strolling the pier against the vast Gulf of Mexico backdrop, it's a lively slice of Galveston's energy and charm beamed directly to you.
Galveston: Galveston Island Historic Pleasure Pier – Seawall Boulevard
---
Galveston Fishing Pier Cam
The Galveston Fishing Pier Cam provides an intimate look at the heart of the city's thriving angling community, capturing local and visiting fishermen as they try their luck against the Gulf's bounty. With the expansive sea as its backdrop and the rhythmic dance of fishing lines casting and reeling, it's a serene yet lively peek into Galveston's popular maritime pastime.
Galveston: Fishing Pier Cam – by Saltwater-Recon.com
---
Other Galveston Traffic Cams
Galveston's traffic cams offer a unique street-level perspective of the city, revealing the ebb and flow of life on Galveston's vibrant thoroughfares. From the bustling Strand Historic District to the sun-drenched Seawall Boulevard, these cameras provide real-time snapshots of Galveston's lively urban pulse.
---
Galveston San Luis Pass
The webcam pointing northeast at San Luis Pass in Galveston provides an awe-inspiring panorama of this vital waterway, where the waters of the Gulf of Mexico meet Galveston Bay. This constantly changing vista of fishing boats, gliding seabirds, and dramatic weather conditions, all under the vast Texas sky, offers a captivating glimpse into the untamed beauty of this crucial maritime passage.
Galveston › North-East: San Luis Pass
---
Surfside Beach Jetty Park Cam – Surfside, TX
The Jetty Park Cam at Surfside Beach, Texas, offers an entrancing view of this beloved coastal escape, capturing the ever-changing dance of waves against the rugged jetty. From surfers riding the Gulf swells to families reveling in beachside fun, this webcam serves up a delightful slice of Surfside's vibrant seaside lifestyle.
Surfside Beach: Jetty Park Cam – Surfside, TX – by Saltwater-Recon.com
Weather Galveston Island – Current Radar Map
Current weather radar map of the Galveston and Texas City area.
---
360 View of Seawall Near Galveston Pier
The 360-degree view from Google Maps offers a unique angle on the seawall near the Galveston Pier. In this case several yound women ventured out on the seawall to grab this great shot. Great to see a sample of the area and what it looks like in case you want to visit in the future
---
Galveston Texas News Updates
Opal Lee, 'Grandmother of Juneteenth,' to be inducted into Texas …  KPRC Click2Houston

Rare Sea Turtle Is Making Its Epic Return to Texas Waters After …  AZ Animals

Modest bidding for first Gulf of Mexico wind leases  WorkBoat

Texas Homeport Reaches Massive Passenger Milestone  Cruise Hive

Galveston pregnant teen dies: Federly Espinoza's death at UTMB investigated as suspicious, police say  KTRK-TV

American National Insurance Opens New Corporate Office in Allen …  GlobeNewswire
---
Current Galveston Texas Weather Map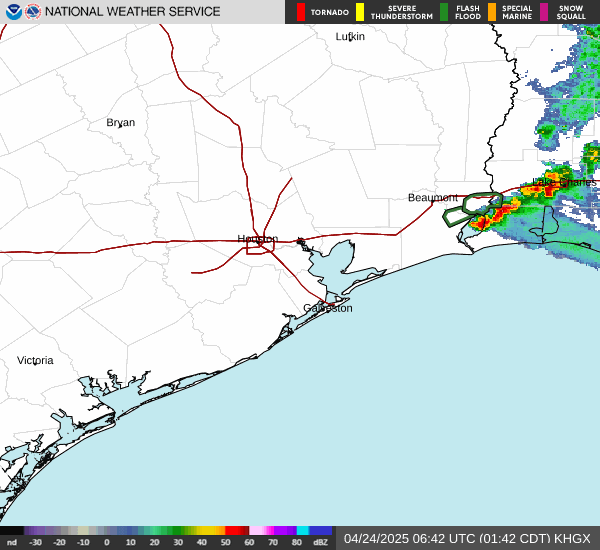 About Galveston Texas
Galveston, Texas, stands as a unique blend of Southern charm, historic significance, and seaside allure. As you wander its streets, the city's rich history whispers from Victorian-era buildings, like those of the Strand Historic District, while the echo of crashing waves from the Gulf of Mexico provides a constant backdrop. Here, you'll find a hearty culinary scene, from fresh seafood to authentic Southern BBQ, while the vibrant Island nightlife promises entertainment well into the early hours. Whether you're drawn by the call of the Pleasure Pier's carnival rides, the tranquillity of a beachside stroll, or the appeal of a laid-back Texan town steeped in history, Galveston always has a story to tell.
Famous People from Galveston, Texas
Galveston, Texas, has been the birthplace and hometown of several notable individuals who've left their mark on various fields. Consider King Vidor, an iconic film director and producer whose works during the early 20th century helped shape the landscape of Hollywood cinema. Then there's Barry White, the soulful singer-songwriter whose deep, seductive voice became a defining feature of disco-era music. Galveston also birthed George P. Mitchell, the "father of fracking," a pioneer in the natural gas industry whose advancements in hydraulic fracturing technology revolutionized energy extraction, proving that this coastal Texas town has a knack for nurturing significant talent.
Current Attractions in Galveston, Texas
In the heart of Galveston, Texas, there are many current attractions that draw visitors from near and far. The Galveston Island Historic Pleasure Pier is a hotspot for fun-seekers, with its carnival-like atmosphere, myriad rides, and games all set against the backdrop of the Gulf of Mexico. History buffs find a treasure trove at the Bryan Museum, which showcases an extensive collection of Southwestern United States historical artifacts, or they may prefer a leisurely stroll through the East End Historic District's Victorian-era mansions. For those seeking natural beauty, the Galveston Island State Park provides a peaceful haven for hiking, bird-watching, or beachside relaxation, showcasing the city's more tranquil side.
Final Thoughts Galveston Texas Webcams
In conclusion, the Galveston Texas webcams offer not just picturesque views but also serve as essential tools for weather updates and news. They connect us virtually to this incredible coastal town, its dynamic community, and its stunning natural surroundings.