Minnesota is known as the land of 10,000 lakes, wonderful Scandinavian foods, and friendly people. Minneapolis is no exception! We have live Minneapolis webcams. You can check on the conditions of the big city traffic in real-time and there are weather stations to keep an eye on the weather. As the next snowstorm advances into Minneapolis, this page will offer a quick visual report on conditions.
Table of Contents
Live Minneapolis Minnesota Webcams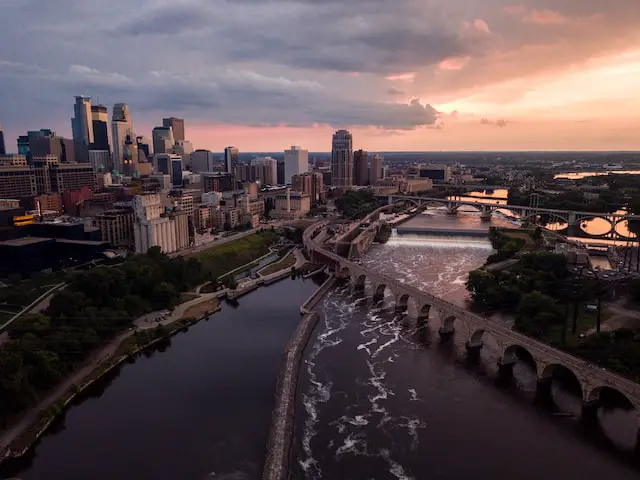 You can check on traffic conditions on Minneapolis, MN, and highways live from your computer. You can also watch the water conditions of Minneapolis from your phone or tablet. This is especially useful when traveling and wanting to see what's happening in the area of town where you left your car.
This is a sister page to the West Palm Beach, Bradenton Webcams, Port Charlotte, Sarasota Webcams, and Charleston SC Webcams.
Pro Tip: If several webcams in the same area are not working, it could indicate a power outage.
Current Minneapolis Weather Forecast
Current weather for Minneapolis, St. Paul, New Brighton, and MSP airport. The map may center on your location if you are using a mobile device with GPS location services turned on. If that happens, scroll the map with two fingers to center on the greater Minneapolis area.
Embedding webcams is tricky. Sometimes, it's best to click on the camera and view it in its tab. For some mobile devices, the image my not appear. Click on the URL link to see the camera.
The featured image and source of some webcams on this page are from Windy.com
Minneapolis Minnesota 511Traffic Dashboard
---
Minnetonka Mn Webcam: Highway 7 West Bound at Williston Rd
Live webcam at Minnetonka on Highway 7. Facing west
Minnetonka: MN 7: T.H.7 EB @ T.H.101
---
Arden Hills, Mn Webcam: I-35W: I-35W Northbound and County Road E2
Another webcam I-35 in Arden Hills and New Brighton.
Arden Hills: I-35W: I-35W NB @ Co Rd E2
---
Minneapolis Near North: I-94 Southbound and 7th St
Near North: I-94: I-94 SB @ 7th St
---
St Paul Webcams – St. Paul: I-94 West Bound at T.H.61
Here is a collection of Windy.com webcams located near St. Paul, Minnesota. Click on the cam image to access the specific camera images. Many of these are traffic cams with several views of a specific crossroads intersection.
Other Webcams Near White Bear Lake: US 61: T.H.61 SB @ 4th St
---
Weather Radar Minneapolis Minnesota – Current Weather & Forecast
Current weather radar map of the Minneapolis, Minnesota, area.
---
Winter Storm Coverage of Minneapolis Minnesota
Live streaming reporting is available on channel 9 in Minneapolis. KMSP-TV (channel 9) is an American television station licensed to Minneapolis, Minnesota. The Fox Television Stations subsidiary of Fox Corporation owns it. The station broadcasts on the Fox network. It is the flagship of the Fox Broadcasting Company's Twin Cities television station duopoly. The studios for KMSP are in Brooklyn Center, a suburb of Minneapolis. The station's transmitter is in Shoreview.
---
Minneapolis News Updates
North Minneapolis brewery hosts market for Black businesses  CBS News

NTSB: Plane carrying 'Dandy Daddy' crashed due to engine failure  Cleveland 19 News

Lonnie Bowers Obituary (1958 – 2023)  Legacy.com

Kene Nwangwu May Need To Prove He Can Do More Than Return  purplePTSD.com

Check out the Outdoors calendar for meetings and LDWF updates  The Advocate

10 Underrated Midwest Destinations To Visit For 2023  TheTravel
---
United States Winter Storm Map
Final Thoughts About Minneapolis Minnesota Webcams
There are many great spots to watch the traffic in Minneapolis, MN. But one of the best places to see all this beautiful city is right in your home. To see what's going on, you must tune into one of our live webcams or weather stations.
Just visit our cam page and pick the webcam that fits your needs! You can get a wide-angle view of one street or zoom in on a particular part of town—the choice is yours. With these webcams, you can see Minneapolis, MN's weather and traffic conditions. You'll be able to see how busy it is on any given day and make plans accordingly!