Toledo, Ohio Webcams are in the Buckeye State, the Heart of America, and the Birthplace of Aviation. Ohio has several famous landmarks, including Cedar Point, the Rock and Roll Hall of Fame, and the Pro Football Hall of Fame. For a day in nature, visit Hocking Hills. See the tigers at the Toledo Zoo. The phonograph, the gasoline-powered vehicle, the golf ball, and Superman were all created in Ohio. We have live Toledo webcams. You can check on the conditions of the significant city traffic in real time, and there are weather stations to monitor the weather. As the next snowstorm moves toward Toledo, this page will show a quick picture of how things are going.
Table of Contents
Live Toledo Ohio Webcams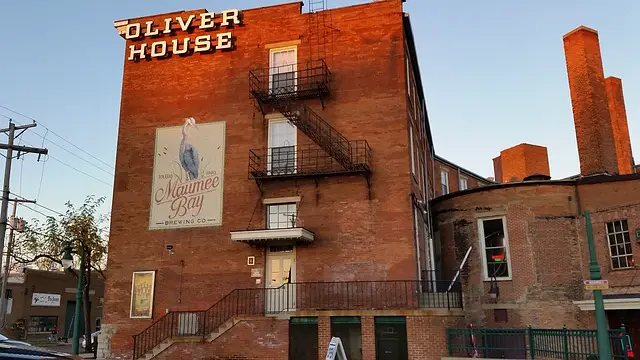 You can check on traffic conditions from Toledo, OH, and highways live from your computer. You can also watch the water conditions of Toledo from your phone or tablet. This is especially useful when traveling and wanting to see what's happening in the area of town where you left your car.
This is a sister page to the West Palm Beach, Bradenton Webcams, Port Charlotte, Sarasota Webcams, and Charleston SC Webcams.
Pro Tip: If several webcams in the same area are not working, it could indicate a power outage.
Current Toldeo Weather Forecast
Current weather for Toledo, Sandusky, Findley, and Toledo Express TOL airport. The map may center on your location if you are using a mobile device with GPS location services turned on. If that happens, scroll the map with two fingers to center on the greater Toledo area.
Embedding webcams is tricky. Sometimes, it's best to click on the camera and view it in its tab. For some mobile devices, the image may not appear. Click on the URL link to see the camera.
The featured image and source of some webcams on this page are from Windy.com
Toldeo Live Cameras – OHGO Traffic Dashboard
---
Toledo: I-280 at SR-25, Greenbelt Parkway
Live webcam at I-280. Facing east
Toledo: I-280 at SR-25, Greenbelt Pkwy
---
Maumee: I-475 at SR-25 – Dixie Hwy – Perrysburg
Another webcam in Perrysburg
Maumee: I-475 at SR-25 – Dixie Hwy
---
Shamrock Village: I-75 at SR-64/SR-105 – Bowling Green
Shamrock Village: I-75 at SR-64/SR-105, Bowling Green
---
Findley Ohio Webcams – Findlay: I-75 at SR-12
Here is a collection of Windy.com webcams located near Findley Ohio, south of Toledo. Click on the cam image to access the specific camera images. Many of these are traffic cams with several views of a specific crossroads intersection.
Other Webcams Near White Bear Lake: US 61: T.H.61 SB @ 4th St
---
Weather Radar Toledo Ohio – Current Weather & Forecast
Current weather radar map of the Toledo, Ohio area.
---
Bonus: Toledo Zoo Live Aquarium Pacific Reef
Watch the Pacific Reef aquarium's impressive 90,000-gallon exhibit with over 50 aquatic species through live streaming. The stream is accessible every day from 10 a.m. to 4 p.m. EST.
---
Bonus: Toledo Zoo Live Polar Bears
Check out the Polar bear exhibit camera feed at the Toledo Zoo's Arctic Encounter! Crystal and her two cute cubs, Kallu and Kallik, can be seen swimming during exhibit hours. The live video stream is available every day from 10 a.m. to 4 p.m. EST.
Toledo News Updates
Climate Friday | Will the September heat wave be record-setting?  WTOL

How landscaping can keep your home or business safe from intruders: Toledo police officer shares tips  WTOL

Ohio and Michigan almost went to war over Toledo in 1800s border clash  The Columbus Dispatch

September 1st Weather Forecast  WTVG

'Rome wasn't built in a day': What is the future of downtown Toledo's Fort Industry Square?  WTOL

TARTA services to run on holiday schedule on Labor Day  WTVG
---
United States Winter Storm Map
Final Thoughts About Toledo Ohio Webcams
There are many great spots to watch the traffic in Toledo, OH. But one of the best places to see all this beautiful city is right in your home. To see what's going on, you must tune into one of our live webcams or weather stations.
Just visit our cam page and pick the webcam that fits your needs! You can get a wide-angle view of one street or zoom in on a particular part of town—the choice is yours. With these webcams, you can see Toledo, OH's weather and traffic conditions. You'll be able to see how busy it is on any given day and make plans accordingly!