Fort Pierce, Florida, known as the "Sunrise City," is a picturesque coastal town on the eastern shore of the state. Established in 1901, the city has a rich heritage tracing back to the Seminole Indians and Spanish settlers. The Fort Pierce Florida webcams highlights the best spots along the banks of the Indian River Lagoon, Fort Pierce boasts beautiful beaches, natural parks, preserves, and a vibrant downtown area.
Fort Pierce Florida Webcams
Fort Pierce Attractions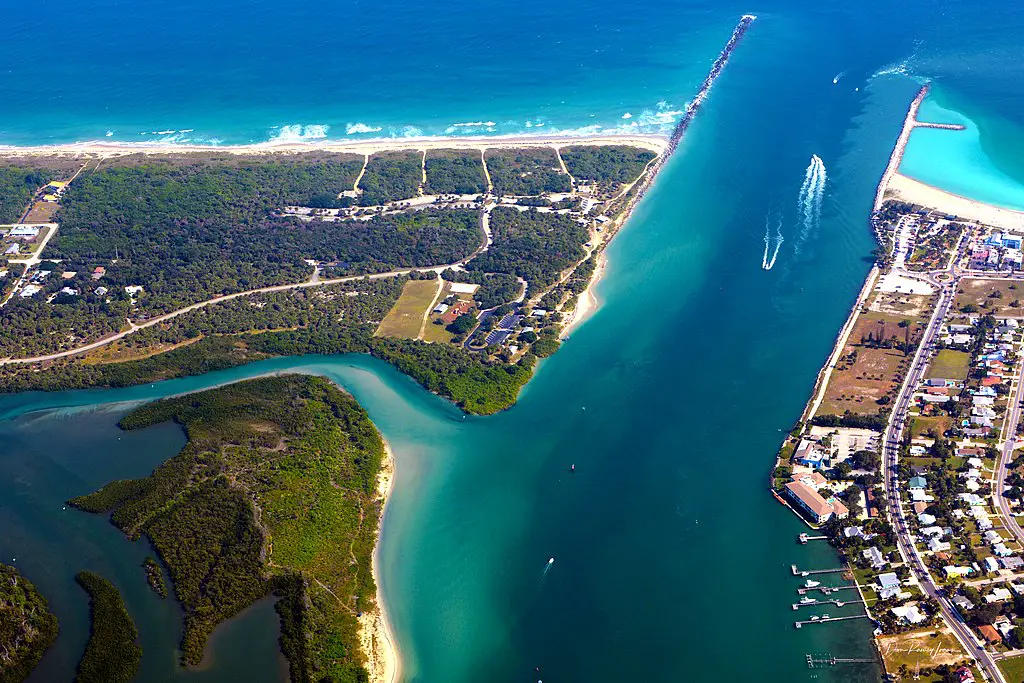 One top attraction in Fort Pierce is the Navy SEAL Museum, offering an interactive experience of the elite force's history. Another must-visit destination is Heathcote Botanical Gardens, showcasing a stunning collection of bonsai trees and tropical plants. Outdoor enthusiasts will enjoy Fort Pierce Inlet State Park for swimming, surfing, fishing, and birdwatching.
The Downtown Farmers' Market, held every Saturday, is perfect for sampling local produce and handmade crafts. To experience the city's vibrant arts scene, visit the Sunrise Theatre or attend the monthly Art Walk. With its unique blend of natural beauty, cultural attractions, and leisure activities, Fort Pierce, Florida, is sure to enchant and entertain visitors of all ages.
Live Fort Pierce Florida Webcams
You can watch Fort Pierce, FL's beaches live from your computer. You can also watch the beaches of Fort Pierce from your phone or tablet. This is especially useful when traveling and wanting to see what's happening on the beach where you left your car.
This is a sister page to the West Palm Beach, Bradenton Webcams, Port Charlotte, Sarasota Webcams, and Charleston SC Webcams.
Pro Tip: If several webcams in the same area are not working, it could indicate a power outage.
Current Fort Pierce Weather Forecast
Current weather for Fort Pierce, Vero Beach, Stuart, and Palm City.
Embedding webcams is tricky. Sometimes, it's best to click on the camera and view it in its own tab.
The featured image and source of some webcams on this page are from Windy.com
Florida FDOT Traffic Dashboard
---
Fort Pierce Webcam: Ft Pierce Inlet State Park
Live webcam at Fort Pierce at Inlet State Park. Facing east toward the Atlantic
Fort Pierce: Ft Pierce Inlet State Park
---
Fort Pierce East Inlet
Another webcam coving the inlet into Fort Pierce
Fort Pierce › East: Inlet – Inket looking east
---
Sebastian Webcam – South-West: Sebastian Highlands
Sebastian › South-West: Sebastian Highlands
Port Salerno Webcams – Stuart Beach Florida
Here is a collection of Windy.com webcams located near Stuart, Florida. Click on the cam image to access the specific camera images. Many of these are traffic cams with several views of a specific crossroads intersection.
Port Salerno: Stuart
Other Webcams Near Fort Pierce
---
Weather Radar Fort Pierce Florida – Current Weather & Forecast
Current weather radar map of the Venice, Florida area.
---
360 View of Jetty at Fort Pierce Florida
The 360-degree view from Google Maps offers a unique angle on the famous jetty into the Atlantic at Fort Pierce. It shows off the waves coming in and out and the people enjoying themselves on the beach. Great to see a sample of the area and what it looks like in case you want to visit in the future
---
Fort Pierce News Updates
Madison Lee, Volleyball  Continental Athletic Conference

Computer Whiz Stuck at Center of Documents Case  Yahoo! Voices

Altomease Munroe-Duncan Obituary – Florida Times-Union  The Florida Times-Union

Arlene Costigan Obituary – Haisley Funeral and Cremation Service …  Legacy.com

Thomas Murphy III Obituary – Haisley Funeral and Cremation …  Legacy.com

Woodward Storey Obituary – Buxton & Bass Okeechobee Funeral …  Legacy.com
---
Current Hurricane Weather Map For the United States
Final Thoughts About Fort Pierce Florida Webcams
There are many great spots to watch the beaches of Fort Pierce, FL. But one of the best places to see all this beautiful city is right in your home. To see what's going on out there, you must tune into one of our live webcams or weather stations.
Just visit our cam page and pick the webcam that fits your needs! You can get a wide-angle view of one beach or zoom in on a particular part of town—the choice is yours. With these webcams, you can see FOrt Pierce, FL's weather and beach conditions. You'll be able to see how busy it is on any given day and make plans accordingly!