West Palm Beach, Florida, is a bustling and vibrant coastal city located along the Atlantic Ocean in southeastern Florida. Known for its upscale shopping, fine dining, and cultural attractions, the city is a popular destination for both tourists and locals. The West Palm Beach Florida webcams highlight top spots along the Intracoastal Waterway and picturesque beaches makes West Palm Beach an ideal destination for those seeking both relaxation and excitement.
West Palm Beach Florida Webcams
West Palm Beach Attractions
Visitors can enjoy a range of activities and attractions in West Palm Beach. The Norton Museum of Art, housing an impressive collection of American, European, and Chinese art, is a must-see for art enthusiasts. Clematis Street, the city's historic heart, offers a lively atmosphere with a variety of shops, restaurants, and entertainment options. Finally, the Palm Beach Zoo & Conservation Society, home to over 550 animals, provides a fun and educational experience for all ages.
Live West Palm Beach Florida Webcams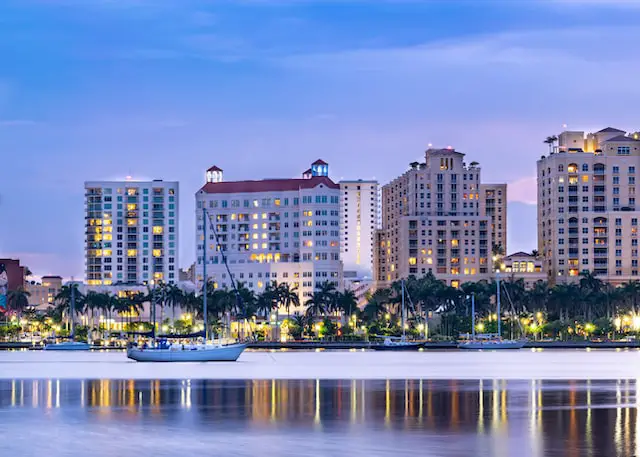 You can watch West Palm Beach, FL's beaches live from your computer. You can also watch the beaches of West Palm from your phone or tablet. This is especially useful when traveling and wanting to see what's happening on the beach where you left your car.
This is a sister page to the Fort Pierce, Bradenton Webcams, Port Charlotte, Sarasota Webcams, and Charleston SC Webcams.
Pro Tip: If several webcams in the same area are not working, it could indicate a power outage.
Current West Palm Beach Weather Forecast
Current weather for Venice, Northport Sarasota, Arcadia, Lake Placid, and North Port.
Embedding webcams is tricky. Sometimes, it's best to click on the camera and view it in its own tab.
The featured image and source of some webcams on this page are from Windy.com
Florida FDOT Traffic Dashboard
---
Delray Beach Beach WebCam – Delray Municipal Beach, Florida
Live webcam on Delray Beach. Twenty miles south of West Palm Beach, Florida. See what's going on at the beach by watching this live feed from the City of Delray Beach municipal beach. Examine the current weather and surf conditions. To hear a recorded report of conditions, please call (561) 27-BEACH (272-3224).
---
Hollywood Beach Webcam – Hollywood Beach, Florida Webcam
This is a live webcam, and several cameras are cycled through the live streaming feed at Hollywood Beach, Florida. Hollywood, Florida's historic Broadwalk, is a 2.5-mile beachfront promenade dotted with stores, eateries, and motels with ocean views. At Margaritaville Hollywood Beach Resort, you can witness the FlowRider in real-time in addition to people riding, jogging, dining, and strolling along the Broadwalk.
---
Juno Beach Webcam: Jupiter Florida
Juno Beach: Jupiter
West Palm Beach: I-95 at Belvedere
West Palm Beach: I-95 at Belvedere
Nearby West Palm Beach FL Webcams
Here is a collection of Windy.com webcams located near West Palm Beach, Florida. Click on the cam image to access the specific camera images. Many of these are traffic cams with several views of a specific crossroads intersection.
---
Weather Radar West Palm Beach Florida – Current Weather & Forecast
Current weather radar map of the Venice, Florida area.
---
360 View of South Jetty Venice Beach Florida
The 360-degree view from Google Maps offers a unique angle on the clock tower at West Palm Municipal Beach. It shows off the waves coming in and out and the people enjoying themselves on the beach. Great to see a sample of the area and what it looks like in case you want to visit in the future
---
West Palm Beach News Updates
Week 2 wrap up: Santaluces earns bragging rights over Boynton …  WPTV News Channel 5 West Palm

Heavy police presence after shooting leaves one injured in West Palm Beach  cw34.com

Hurricane Idalia's price tag could reach $20 billion  WPTV News Channel 5 West Palm

Global Developments Show Selfie Onboarding's Ongoing Ascent  Mobile ID World

Natalie Acosta a shining light for Cardinal Newman High School  WPTV News Channel 5 West Palm

Reversed Garden House, Miami, Florida  e-architect
---
Current Hurricane Weather Map For the United States
Final Thoughts About West Palm Beach Florida Webcams
There are many great spots to watch the beaches of West Palm Beach, FL. But one of the best places to see all this beautiful city is right in your home. To see what's going on out there, you must tune into one of our live webcams or weather stations.
Just visit our cam page and pick the webcam that fits your needs! You can get a wide-angle view of one beach or zoom in on a particular part of town—the choice is yours. With these webcams, you can see West Palm Beach, FL's weather and beach conditions. You'll be able to see how busy it is on any given day and make plans accordingly!